Resource Title
Drinking from the Well – a Global Health and Justice Resource for Youth Workers
Summary
'Drinking from the Well – A Global Health and Justice Resource for Youth Workers' is an education pack exploring the link between poverty, injustice and health around the world.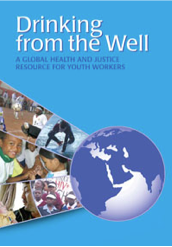 Description
At 36 pages in length, the resource is designed for group/classroom sessions for working with young people (ranging from 8-12 years of age). The training pack takes a broad view of health, from physical, mental, spiritual and emotional well-being to sexual, social and environmental health.
'Drinking from the Well' is divided into three sections. The first section introduces the idea of health and allows young people to identify their experiences and understandings of being healthy. Section two addresses the links between health and justice. Section three comprises activities specifically related to the global health targets contained within the Millennium Development Goals.
The resource contains activities, facts and statistics, case studies, information sources and action ideas to support youth leaders and workers to engage young people in learning and action for local and global change. Activities include simulation games, role plays, art work, stories, ranking exercises, quizzes and group tasks.
'Drinking from the Well' also includes a photo pack of 10 photographs depicting scenes relating to health and well-being from around the world, from sanitation and environmental health to emotional health and nutrition. The resource contains ideas on how to use these photos in creative ways in order to stimulate reflection, discussion and new ways of looking at global justice issues.
Big Ideas in this Resource
Young people can learn to reflect on their own attitudes to health, to consider the many dimensions of health and well-being and to examine factors such as poverty, access to education, healthcare, family and social networks, which impact on the health of people and societies at a local and global level.