Resource Title
Drought and Migration in Ethiopia
Summary
This resource for primary schools uses drama to explore aspects of life in both rural and urban contexts in Ethiopia. The resource includes a scheme of work, five lesson plans and photocopiable resources that allow teachers to explore the themes of drought and migration with their class.
Drama has the unique capacity of enabling participants to embody unfamiliar contexts and aspects of human experience encountered through Development Education. Through dramatic embodiment, the complexities inherent in development themes and nuanced understandings of these can be captured.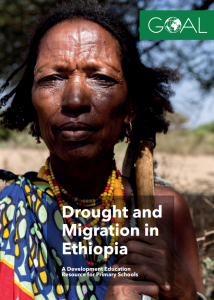 Description
Drought and Migration in Ethiopia is an educational resource which uses the methodology of process drama to enable children to learn, through imagined experience, about life in Ethiopia.
The resource includes a scheme of work which contains five lesson plans. These lessons are
designed to last an hour each
utilise a variety of drama techniques including tableau, mime, performance carousel, improvisation, hidden briefs, thought tapping, roll on the wall, freeze frames, collective images, hot seating, soundscape, small group play making, talking images, teacher in role, conscience alley and reflection.
include photocopiable resources beside each lesson to allow for easy use of the resource by the teacher.
include assessment worksheets and suggestions for further learning and action.
This is the second development education publication by GOAL that uses Drama as a methodology. Spotlight on South Sudan was published by GOAL in 2015.