Resource Title
Equality and Diversity: Building a culture of equality in our society
Summary
This resource is intended to support young people in critically exploring the concepts of equality and diversity and in acting to build a culture of equality within their own environment and within society. Looking specifically at equality and diversity within the school, community and society, the resource provides an opportunity for students to increase their knowledge and understanding of equality, develop the skills to critically analyse inequality, and become empowered to actively promote equality within their school and/or community.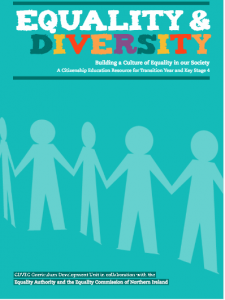 Resource Details
Author:

Mary Gannon and Aoife Ruane-Kelly

Countries of Publication:

Ireland, Northern Ireland

Year:

2012

Page Count:

108
Description
Topics covered in this resource:
Exploring Diversity
Perceptions and stereotypes
Exploring equality
Equality and the law
Equality on the agenda
Each lesson plan includes Learning Intentions, Resources Needed, and a description of the activities. Several of the lessons involve photos and video clips. The lesson plans are also explicitly linked to the curriculum.