Resource Title
Erratum to the Shell Annual Report 2010
Summary
During the Shell annual general assembly (AGM) in The Hague in May 2011, Friends of the Earth International presented a spoof "erratum" (otherwise known as a statement of an error and its correction inserted) to the annual report where Shell apologises for worldwide damage, which was distributed among shareholders and senior management.
Presented as a fake apology by the company, it displays 12 climate, sustainability and other environmental case studies from 5 continents on the impacts of Shell's oil and gas operations and the involvement of Shell in the violation of human rights and labour irregularities.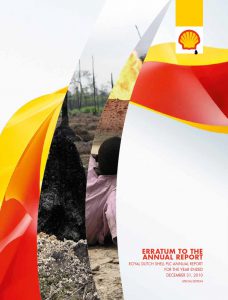 Resource Details
Author:

Friends of the Earth

Country of Publication:

Netherlands

Year:

2011

Page Count:

24
Description
Designed as a public relations stunt directed at shareholders of the global energy and petrochemical company Royal Dutch Shell PLC (Shell), this short report looks like a typical corporate annual report yet instead 'reads' Shell annual report activity from an environmental, social responsibility and human rights lens.
The authors have presented and interrogated a range of unsustainable practices used by the company and to challenge its performance, shadowing the layout in the annual Shell Sustainability Report (more info on that below). The report includes:
Imagined reflective 'statements' by the executive director summarise given problems and present ways for the company to correct its practices.
A two page performance review by a range of international observers and 4 short concluding observations
12 case studies such as the results of Shell's joint venture with Brazilian biofuel producer Cosan S.A., which has been linked to slave labour and violations of labour rights. Other case studies in the report: Canadian tar sands extraction causes a rise in greenhouse gas emissions; Western grey whale on the brink of disappearing forever; Bribes to Nigerian customs officials to import materials and equipment; toxic legacy in Curaçao,a litigation risk for Shell; Oil depot in densely populated Manila, Philippines; Safety issues and the Kashagan oil field; dodging climate change issues; spills; water; Drilling Alaska's Arctic coast; biofuels and massive monoculture land use in Brazil to produce sugarcane; indigenous communities in Brazil suffering under Shell operations; pollution.
The erratum serves as a "wake-up call" for Shell's shareholders and board of management and is backed up by a longer in-depth report titled Royal Dutch Shell and its sustainability troubles (2011) featuring the 12 case studies used in the Erratum shadow report involving life threatening pollution, bribery, slavery and the company's violation of national and international laws.
Further Reading
Each year Royal Dutch Shell PLC (Shell) produces an Annual Report accompanied by a Shell Sustainability Report, which are viewed as market leaders in best practice reports produced by companies reporting their environmental performance.
The Erratum was produced by FOEI within this context so as to challenge the evidence and outlook of how Shell understands 'sustainability' in principle and in practice.
Available from:
YouTube link | The official presentation of the Erratum to Shell's shareholder AGM meeting