Resource Title
Forced to Flee: Exploring the Refugee Crisis
Summary
This resource provides useful facts, figures and suggested exercises for use in primary and post-primary classrooms on the current refugee crisis situation.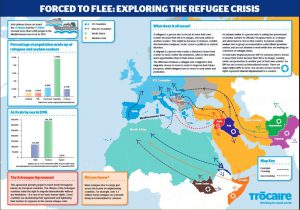 Description
Page one: an infographic of a map of refugee movement in the world. Around the outskirts there are text boxes with facts and information about Migrants, refugees and Ireland. This page would be suitable for printing and displaying in a classroom.
Page two: outlines four example lessons on this topic:
Exploring the maps
Taking a look at world religions
Imagining a new world
Let's work it out (drama piece)
This resource also gives tips for the teachers to create a safe space for discussion of this topic and has curriculum links.