Resource Title
Framing our World: a youth work resource on the use of images and messages in development
Summary
This 44 page pack aims to raise awareness of the reality behind images and messages. It looks at the power relations and stories behind the images we receive about the world we live in.
It challenges stereotypes to find a more balanced, just approach to global justice.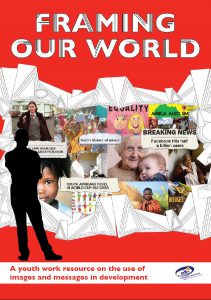 Description
The pack details a number of tools to analyse where images and messages come from and their impact. These tools include developing photo-literacy, critical reflection and the Dóchas Code of Conduct on Images and Messages.
17 activities with mixed active hands on learning
Case studies, maps, worksheets, factsheets, political cartoons, photographs (attached separately)
Strong media analysis support with global justice focus
Link to the Millennium Development Goals (MDGs)
Facilitator support with age recommendation, materials, step-by-step guide and debriefing guiding notes
Suggested sources for additional information
Produced as part of One World Week – a concentrated week of educational activities in the youth sector around a week of youth-led awareness raising, education and action that takes place throughout Ireland during the third week of November every year…