Resource Title
From Volunteers to Active Citizens
Summary
A practical guide for volunteer sending-organisations, which aims to build capacity to support and deepen volunteers' ongoing learning and critical engagement with international development issues, and to help volunteers "to address the structural and underlying causes of inequality and injustice to participate in social change making."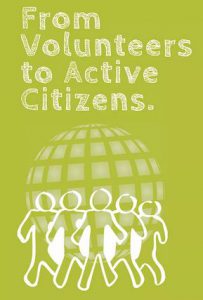 Resource Details
Author:

Various

Publishers:

Comhlámh, GVC Italia, Alianza por la Solidaridad, Inex-SDA, Zavod Voluntariat, Volunteurope, Deineta

Countries of Publication:

Ireland, Italy, Spain, United Kingdom (UK), Czech Republic, Slovenia, Lithuania

Year:

2015

Page Count:

50
Description
The resource was produced in order to pool the collective knowledge and experiences of the participating organisations, gleaned from their work in the area of international development and volunteering. It sets out to provide "information and activities relating to different stages of the learning journey" for volunteers.
Taking the question of what it means to be an active global citizen in the context of international volunteering as a starting point, the pack offers:
a range of reflections
workshop activities
guidelines and tips
flowcharts to help organisations to address the issues with prospective and returned volunteers.
valuable perspectives on the role of development education
guidelines for sending-organisations to support volunteers to be more critical and active global citizens, with tips and tools for agencies to support and deepen volunteer engagement.
The pack provides practical instructions for a range of workshop activities to encourage critical reflection on active and transformative learning, on power, participation and engagement. These tried-and-tested activities draw on active and creative methodologies such as Appreciative Inquiry and Augusto Boal's Forum Theatre.
The hands-on experience of the authors is tangible, with reflections and examples of tried-and-tested practice from the various partners in evidence throughout.
The authors are also alert to the dangers of patronising approaches to overseas development work, and conscious that power dynamics are structurally configured, regardless of our best intentions, and so there is an explicit commitment to a critical approach to volunteering in which participants consciously unpack and examine their "post-colonial" assumptions.
The pack outlines the importance of understanding that active citizenship involves volunteers asking "challenging and critical questions about their role in addressing the systems that perpetuate injustice". The authors draw considerably from the work of Vanessa Andreotti in this endeavour, and have adapted her work to develop a framework of 'soft' and 'critical' volunteering which may be useful for guiding organisations in identifying ways to deepen their practice.
(See Further Reading, below).
Authors: Grainne O'Neill, Veronika Uhlí?ová, Nerijus Jankauskas, Maria Chiara Lesi, Sandra Victoria Salazar, Jara Henar, Katja Celin, Piotr Sadowski, Charo Lanao Madden, Kevin Murphy, Helen Walmsley, Elena Hermosa, Caroline Murphy, Tommy Bergin, Dervla King
……………………………………………………………………………..
Contents
Introduction: From volunteers to active citizens. Overview of the project aims.
Embarking on a Learning Journey: This section will introduce learning journeys, drawing on a framework from the book Walk Out Walk On.
Activity: What has shaped you? Supporting participants to understand what has shaped their lenses and world.
Activity: Inquiry for learning. An activity to explore times when was learning experienced at its best?
Development Education in Volunteering: This section explores what we mean by development education within volunteer programmes, with a focus on
Active Citizenship in a Global World: 6 'Tips' for volunteer sending agencies to support volunteers to become active global citizens, and how to move towards a more critical global citizenship in international volunteering development education as something that is happening with volunteers no
Tuning into our Environment: An activity to deepen a sense of interdependence and connection with the rest of the world.
A Day in the Life of a Global Citizen: Another activity to deepen a sense of global interdependence and connection.
What do we mean by Participation? Participation of volunteers within volunteer programmes; and with the sending agency; participation overseas with the host community; and participation within wider society, locally and globally.
Power and Theatre: Drawing on the work of Augusto Boal, this activity shows some ways to use forum theatre to unpack the theme 'power'
Carousel Activity: A methodology which enables reflection on different voices involved in an international volunteering placement
Volunteer Stories: Two stories from volunteers who both travelled to South Africa from Inex-SDA (Czech Republic) and Zavod Voluntariat (Slovenia)
Conclusion: This activity uses a methodology which enables reflection on different voices involved in an international volunteering placement.
Bibliography
Suggest Uses
Volunteer sending-organisations will find a great deal of value in this resource in assessing their overall approach to volunteer engagement, and supporting a global citizenship perspective.
This pack is idea for planning pre-departure workshops and ongoing learning experiences to help people to critically consider issues and also for assisting volunteers to explore their options for ongoing engagement upon their return.
Further Reading
This publication would complement Comhlámh's Code of Good Practice for Sending Organisations:
https://www.comhlamh.org/code-of-good-practice-2
Vanessa Andreotti's article, Soft Versus Critical Global Citizenship education is available at Policy & Practice Issue 3 (Autumn 2006)