Resource Title
Global Teacher: A cross-curricular teaching resource on global development for Transition Year
Summary
This is a cross curricular teaching resource on global development for transition year students available in English and Irish.
Section 1 of the resource contains lessons based on 5 themes exploring global development issues in Irish Aid's partner countries. Section 2 of the resource contains short introductory activities on global development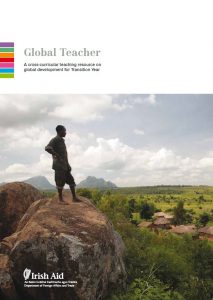 Description
This resource aims to prepare and engage students to recognise the increasingly interconnected nature of their lives with the lives of those in developing countries. This resource will therefore enable students to reflect on their role as global citizens.
The pack contains 10 classroom activities, photo resources, lesson plans and a poster on the Millennium Development Goals to accompany the lessons.
Curriculum linking has been developed specifically for the following subjects: History, English, Geography, Religion, Maths, Biology & Art.
This resource supports teachers in exploring issues such as hunger, HIV and AIDS, the environment, climate change and governance with their students. The lessons, which are based around Irish Aid case studies, include active, participative methodologies to promote critical thinking and engagement in classrooms based on NCCA guidelines.
Mixed active learning methodologies used include:
Informative guide for dealing with sensitive or controversial issues in the classroom is included.
Irish Aid post primary resources and information page: www.irishaid.gov.ie/teaching-and-learning/secondlevel/
Múinteoir Domhanda
Is acmhainn teagaisc thraschuraclaim é seo maidir le forbairt dhomhanda le haghaidh daltaí idirbhliana. Cuimsíonn cuid 1 den acmhainn ceachtanna bunaithe ar 5 théama trína bpléitear saincheisteanna forbartha domhanda i dtíortha comhpháirteacha Chúnamh Éireann. Cuimsíonn cuid 2 den acmhainn gníomhaíochtaí réamhléiritheacha gairide ar fhorbairt dhomhanda.
Available from:
A copy of the pack is available free of charge from the Irish Aid Volunteering and Information Centre, 27-31 Upper O'Connell St. Dublin 1, Tel. 01 8546920. Email requests at https://www.irishaid.gov.ie/contact-us/