Resource Title
Going Beyond the Symbols: Ethical Consumerism and Fair Trade for Post-Primary Education
Summary
Going Beyond the Symbols: Ethical Consumerism and Fair Trade for Post-Primary Education is designed to assist second level teachers address these issues with their students. The resource looks at ethical consumption and fair trade as well as related issues such as child labour, climate change and the Sustainable Development Goals.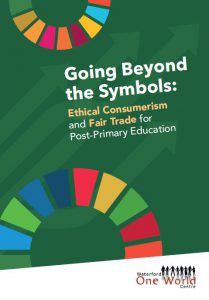 Description
This resource includes:
3 sections (sustainability; Fair Trade; Taking Action)
10 activities
Literacy and numeracy activities
A focus on values, skills and attitudes leading to a 'taking action' strand
Range of issues covered including: the Sustainable Development Goals, ethical consumption, fair trade, child labour, sustainability
Games (carbon footprint calculator)
An evaluation tool
A guide to current ethical consumption campaigns
This is part 2 of a series of Going Beyond the Symbols which also includes an edition for Youth Leaders and will eventually include an edition for Primary, Community Group Leaders, Adult Education.