Resource Title
Honduras – Junior primary resource
Summary
This resource provides teachers of junior infants to 2nd class with information and activities that explore the theme of poverty and the impact the community can make in dealing with poverty.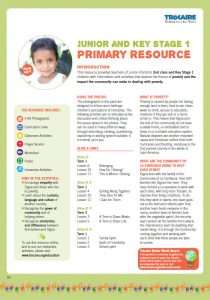 Description
The pack is designed to inform and challenge the children's perceptions of Honduras. The activities aim to stimulate active discussion and critical thinking about the issues raised in the photos. The pack contains 4 A4 photographs, curriculum links, classroom activities, prayer service, worksheet, posters and interactive activities.
Suggested use: To introduce the issue of poverty.