Resource Title
How the World Works 2: a resource for teachers
Summary
This resource updates from the popular TY resource in 2010 and provides students with the opportunity to explore how structures of poverty and inequality are maintained on a global level.
Students will also consider the role that they play in the world and how they can help change the way the world works by assuming their responsibility as global citizens.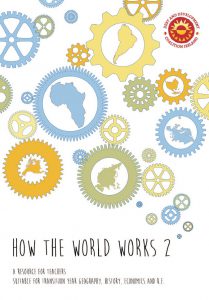 Description
This resource is aimed at transition year students, with relevance to economics, history, geography and religious education. It is full of activities divided into four sections:
The first section has eleven activities and is called 'the shape of our world' which paints a picture of various aspects of the world today.
The second section of twelve activities examines causes and consequences of global inequality.
The third section is named 'another world is possible' and the focus of the four activities here is on the values and ethical questions surrounding prescribing the 'world we want.'
The final section has activities to facilitate young people taking action
The core ideas of thee resource are to:
promote awareness about the causes of global inequalities
create an understanding of how individuals and organisations can bring about change through their actions
cultivate empathy towards people in the Global South linked to a sense of responsibility towards working to support justice
A key strength of this resource is that it is a collection of diverse activities (making use of quiz sheets, games, role play, case studies etc) which are easy to follow and highly engaging for students.
Available from:
Download How the World Works 2 PDF (3.22MB)
For hard copy of this resource, please email campaign@debtireland.org or call +353 (01) 6174835
Cost: €5 towards printing and postage costs.
More info on Debt and Development Coalition Ireland https://www.debtireland.org
Access the first edition of How the World Works (2010).