Resource Title
How to Write About Africa in 8 Steps: An Ethical Storytelling Handbook
Summary
The Ethical Storytelling handbook considers the challenges of ethical storytelling and provides practical examples of how difficulties might be overcome. It looks at all the stages of the storytelling process: conceptualising a project, planning, gathering material, producing a draft, gathering feedback on it, and producing a final version before disseminating it.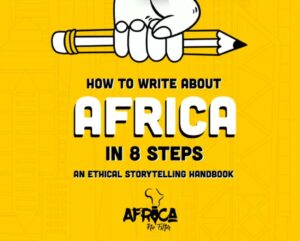 Description
"Research has shown that the prevailing stories and frames about Africa focus on poverty, poor leadership, corruption, conflict and disease. These lead to narratives about an Africa that is broken and where its people lack agency and are dependent on outsiders.

…Ethical storytelling means adopting a new approach thatconsciously tries to move away from harmful, stereotypical narratives."
Storytelling is the most powerful way for donor and non-governmental organisations to convey their work because stories allow audiences to connect on both an intellectual and emotional level.
However, much of the storytelling about development work in Africa perpetuates harmful and stereotypical narratives about the continent because of unethical practices.
The Ethical Storytelling Handbook is a practical guide that addresses some of these issues by providing applicable guidelines for storytellers to share their work on the continent.

This guide includes case studies and addresses how to overcome unethical storytelling (checking privilege, unequal power relations, ensuring respectful engagements and more). It is organised into 8 steps:
1. Challenging unequal power relations
2. Ensuring respectful engagements
3. Tackling implicit bias in the hiring process
4. Addressing biased storytelling 
5. Properly using ethical guidelines and understanding informed consent
6.Understanding the local context
7. Avoiding rushed schedules
8. Investing in your people.