Resource Title
I am Slave
Summary
A movie based on the true story of Mende Nazer, a young Sudanese woman from the Nuba mountains, stolen by mujahideen soldiers as a child and sold into slavery to an Arab family. After years as a slave in Khartoum, she is trafficked to the UK to continue a life of slavery there.
The movie is about Nazer's struggles to regain her freedom and be reunited with her family. Mende's name has been changed to Malia, played by acress Wunmi Mosaku.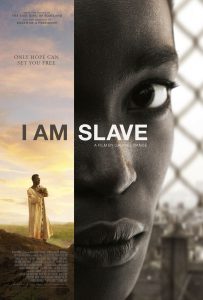 Description
Malia hails from a proud Sudanese family. Her father is a tribal leader, noble warrior and well respected in their community. However, this has little resonance when the village is raided and Malia is captured by with a number of other young women in a raid on their village by mujahideen soldiers who violently take her to Khartoum to be sold as a slave to an Arab family.
Malia is abused and humiliated by her new owners ensure her subservience. After years of servitude and loss of her childhood, Maila is sent to London to work for her employer's cousin.
Despite the move Maila remains a slave working day and night for no pay, privileges or freedom. On one of her rare stints outside the small London house, Malia sees a black passerby who hails also from Sudan and it critical in her escape to freedom. Malia was 12 when she was taken from her family in the Nuba mountains and is 18 when she escapes.
She had been taken when she was 12; she was now 18. There are reported to be 5,000 such slaves in London.
The film has been credited for accurately portraying some of the horrific realities of the issues surrounding slavery and highlights the realities that slavery is not just an issue 'over there', but could be right next door to us. An incredibly moving movie, and an ever more important watch amidst the rising precedence of human trafficking.
Watch the film online on Youtube:
See a really interesting BBC interview with the actress Wunmi Mosaku and the movie writer Jeremy Brock discussing the movie and some of the issues that the movie highlights https://www.bbc.co.uk/news/entertainment-arts-11128808
Available from:
I am slave is available widely for purchase online and in record/dvd shops. For example,
It may also be available in your local library