Resource Title
Illustrative Guide to the Dóchas Code of Conduct on Images and Messages
Summary
The Illustrative Guide is a support to organisations seeking to implement the Code. The Guide provides practical examples and illustrations of good practice when using images and messages as well as good practice when working in emergencies or using social media. It contains dedicated sections on consent, child protection, and accountability and feedback.
Examples and questions posed in this Guide could also be extended for use with media and in organisational strategies, case studies and reports. The guide is also suitable for educators working in a group environment to interrogate image and photo choices.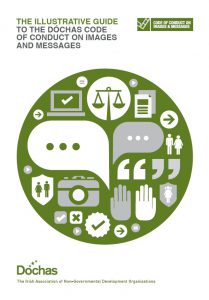 Description
Since 2007, significant numbers of Development NGOs in Ireland have become signatories to the Dóchas Code of Conduct on Images and Messages. NGO staff understand that the images and messages used to portray people, places, and situations in the developing world can have an enormous impact on our perceptions and attitudes.
Who should use the illustrative guide?
The Guide is for those within Development NGOs, and other NGOs who work on development related issues, who have an interest in and commitment to implementing the Code in their communications. This includes, but is not limited to:
NGO personnel who work in fundraising, development education, communications, advocacy, and policy advisory roles;
Senior management and governance personnel in NGOs who approve the organisation's overall policies;
Agencies contracted by NGOs to supply professional services such as copywriters, creative designers, journalists, and photographers.
It can also be used by media decision makers who are responsible for communicating images and messages about the developing world, such as editors, journalists, photographers, picture editors, and contract staff.
Contents list:
1. Introduction: The Purpose of this Guide
2. The Guiding Principles
Principle One: Choose images and related messages based on values of respect, equality, solidarity and justice
Principle Two: Truthfully represent any image or depicted situation both in its immediate and in its wider context, so as to improve public understanding of the realities and complexities of development
Principle Three: Avoid images and messages that potentially stereotype sensationalise, or discriminate against people, situations or places
Principle Four: Use images, messages, and case studies with the full understanding, participation and permission of the subjects (or the subjects' parents/guardians)
Principle Five: Ensure those whose situation is being represented have the opportunity to communicate their stories themselves
Principle Six: Establish and record whether the subjects wish to be named or identified and always act accordingly
Principle Seven: Conform to the highest standards in relation to human rights and the protection of vulnerable people
3. What to Do in Emergencies?
4. Other Types of Communication: Social Media
5. Consent: Tips for Obtaining Informed Consent
6. Child Protection
7. Accountability and Feedback
8. Implementation, Training and
9. Summary of Key Issues – Questions to Consider
Background to the illustrative guide
The Illustrative Guide takes into account the Review of the Code commissioned by the Dóchas Development Education Group between 2010-2012, which consulted a number of organisations and individuals as to how to strengthen the Code and provide further guidance to signatories on its implementation. It is based on research, explanations, discussions, and anecdotal evidence from Code signatories, gathered through workshops and the review process.