Resource Title
In Words and Deeds: 100 years of Catholic social teaching: a poster pack
Summary
While 20 years old, there is nothing 'outdated' about  this innovative poster pack that challenges and explores the social teachings of the Church on the concepts and practices in relation to, for example peace and justice, stewardship, human dignity and equality
Using 15 photographs, the images and questions presented make the posters provocative and challenging yet stimulate interest around justice issues, faith and human development.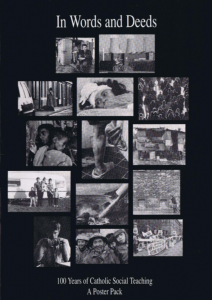 Description
Catholic Social Teaching is often referred to by its proponents as 'our best kept secret'. Many of the central tenants of CST remain hidden from public gaze and there is an immediate need to bring them into the forum of public debate.
This unique poster pack, accompanied by activities, facts and homily suggestions, is one of the ways that, as the authors suggest, 'assists in making our faith a lived faith, one in solidarity with those who are still denied the possibility of real human development.'
The resource is organised around the following themes:
Human Dignity and Equality
Stewardship
Human Development
Solidarity
Option for the Poor
Structures of Sin
Peace
Spiritual Poverty
Justice
In Words and Deeds (now out of print) has been restored and made freely available on www.developmenteducation.ie for anyone interested in moral debates around justice, contemporary philosophy and development, human rights, Catholic Social Teaching, religious and moral education and their potential to reflect practically on the world around us.
The poster pack was originally produced to celebrate centenary of the publication of the Rerum Novarum, a document considered by many to have been the first great social encyclical of the modern Catholic Church.