Resource Title
Infidel
Summary
Ayaan Hirsi Ali has led an astonishing life and in her memoir Infidel she charts her experiences from a childhood spent living in Somalia, Saudi Arabia, Ethiopia and Kenya to how she became a Dutch member of parliament.  The daughter of a leading political opponent to the Somali dictator, Hirsi Ali grew up in exile with her devout Muslim family. She talks about being schooled by strict Muslim teachers; undergoing genital mutilation when she was six and the rejection she suffered from her family when she turned against Islam.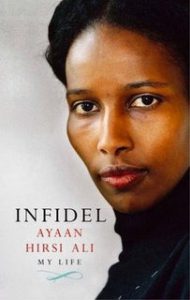 Description
Although as a teenager in Nairobi, Hirsi Ali went through a deeply religious phase, choosing to wear the all-encompassing black Arab veil, she also read English novels and flirted with a boy. She had constant doubts about her faith, especially as she encountered rigid rules on the role of women, and their need to submit to men. Refusing to accept what she saw as the injustice of Islam, Hirsi Ali fled Somalia to escape an arranged marriage, and obtained political asylum in the Netherlands in 1992.
In her book she describes her rejection of her strict Muslim upbringing as a transformation, "the world of faith to the world of reason".  While at university in the Netherlands she learned Dutch and worked for the social services as an interpreter. She started to speak out against the oppression of Islamic women and was elected to the Dutch parliament. Here she was vocal about the lack of individual rights, despite the appearance of Dutch equality. She warned the Dutch that their liberal policy of helping immigrants was actually forming separate cultural and religious institutions and was counterproductive. She brought attention to the crimes of violence against Muslim women committed daily in the Netherlands, to which she said the Dutch authorities turned a blind eye in the name of cultural understanding.
Infidel is not only interesting because it details with Hirsi Ali's amazing personal life and how she arrived at the stage where she rejected her religion, but it also traces the history of the militant Islamic movements throughout Africa and the Middle East. It is a personal story that is quite unbelievable at times and her resilience is admirable.
About the Author
The Somali born author Ayaan Hirsi Ali is well-known for speaking out against the injustices of the Islamic faith and calling for equality and religious reform. She has led an extraordinary life. The daughter of a leading political opponent to the Somali dictator Siad Barre, Hirsi Ali grew up in exile with her devout Muslim family, moving from Somalia to Saudi Arabia, Ethiopia, and Kenya to escape persecution.
Turning against the strict cultural rules imposed by her religion, at the age of 22 she fled to the Netherlands to escape an arranged marriage and obtain political asylum in the early nineties. She adjusted amazingly well to her new home, learning Dutch, attending university to study political science, acquiring citizenship, and eventually working as a translator for social services. She spoke out publicly criticizing the Muslim treatment of women and was elected to serve in parliament.
She first came to the world's attention in 2004 following the murder of film maker Theo van Gogh, with whom she co-produced the controversial short film Submission, by a young Muslim radical. Submission was about the Islam religion's often cruel treatment of women. The murderer warned Hirsi Ali in a note pinned to Van Gogh's body that she was next. Caught up in a row over false facts she had given to obtain her Dutch citizenship, she resigned from parliament and left the Netherlands for the US, where she now works for the Washington-based American Enterprise Institute, an influential right-wing think tank.
Review by Mary McCarthy who is currently living in South Africa. Previously, she worked as a journalist in Dublin for five years. Her most recent post in Ireland was with RTE reporting business news and writing reviews for the broadcaster's entertainment website.