Resource Title
Information Pack on Latin America
Summary
This is an information and learning resource providing an introduction to Latin America. From the history of Latin America to Environment and Labour, this user-friendly pack provides a good starting point for those who wish to learn more about Latin America. It includes good links for further information on each theme, as well as links to actions taking place on the issues mentioned.
Big Ideas in this Resource
Explores some of the development issues as they Latin America
Explores the links between Ireland and Latin America
Suggested Use
As an introduction to development issues in Latin America
As complementary information for workshops / training programmes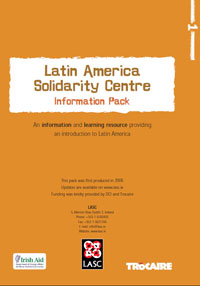 Description
The information pack offers an introduction to Latin America and to the main development issues affecting the region. The topics included in the pack are: History of Latin America; its environment; social movements; trade agreements; labour and health.  The pack is designed in a user-friendly format with 10 detachable pages to be used individually. Each theme is accompanied by further links to further explore the issue and learn how to take action.