Resource Title
Just a Second! Exploring Global Issues Through Drama and Theatre
Summary
This resource offers school groups, youth theatres and college students an accessible guide to exploring global issues through drama and theatre.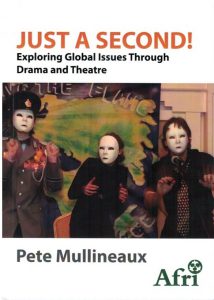 Description
The book opens with coverage of Afri's 2013-2014 'Just A Second!' project which focused on the theme of militarisation.
The issues explored in this resource include poverty and hunger, food security and sovereignty, unfair trade practices, protection of seeds, gender equity, competition for resources, forced migration, war and conflict.
This resource includes the full texts of five mini-plays that were devised with young people taking part in Afri initiated development education projects in primary and secondary schools during the years 2005-2011.
The plays can be read or acted out, but more importantly are designed to act as a stimulus for further drama exploration, discussion and debate. With this in mind they are accompanied by:
Background information for each play setting out the context of the issues raised and when the play was performed
Multiple suggestions for follow-up activities
An introductory section on drama as an educational methodology for development education
Linking across the curriculum so that schools groups, youth theatres, college students and others can explore the themes and issues raised for themselves
Available from:
Copies of Just a Second! can be purchased directly from Afri | www.afri.ie
Cost: €10 (plus p&p)
Contact info