Resource Title
Kings of the Water
Summary
'Kings of The Water' tells the story of thirty-five year old Michiel Steyn returning to South Africa after a fifteen year absence for his beloved mother's funeral. He left in a hurry in the late eighties, not because of apartheid, but because he was kicked out of the army after a relationship with a lieutenant was revealed. He left behind ill will and disgrace – the disapproval of his father and the community where he grew up, an unwanted pregnancy, and the shame of leaving the army. He is now settled in San Francisco with his partner Kamil, but not before he played the field for a few years. He has been dissecting his demons for years on a psychiatrist couch and now the time has come to face them.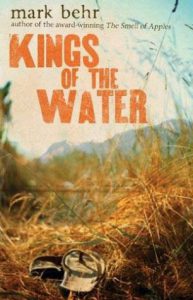 Description
This book is about the need to realise nobody is perfect, everything is going to change eventually, and until you accept there are no certainties in life then you will be on the run from reality. The tale takes place in 2001 during the few days he is back on his Free State family farm, but it spans his childhood and the years he left with Michael's mind roving through his memories. He is surprised at how things are changing in South Africa. The daughter of his nanny sits on the board of Anglo American while her mother still works on the farm. He is shocked when he sees how sick his father is – his mother kept this from him. He finds the political climate chilly. With the backdrop of land invasions in Zimbabwe the question of land redistribution lingers.
However, the acrimony has faded somewhat. His friends and family are caught up in their own lives and he finds to his surprise he has not been disinherited. When he hears the South African accent abroad he tended to avoid it but back on the farm it is easy to see the love Michiel has for the country – the physical environment, the people. Maybe it's because of his academic background, but Behr's style of writing can get annoying at times. There are no chapters and he does seem to rant one from time to time. However, apart from these lapses, this is a decent read which will absorb you.
It's written from such an interesting angle of a gay Afrikaner man, but while it is a South African novel it could be about anyone who is struggling with his past and attempting to cope with the cruelties life can throw at you and not run away from them.
Author the Author
Mark Behr's latest novel which explores the costs of homosexuality in a macho Afrikaner community is an interesting read to say the least. His novel has made it to the long list of this year's International Impac Dublin Literary Award, which is voted for by an international panel of libraries.
Behr is a Tanzanian-born writer who grew up in South Africa. He is widely translated after having made his mark in 1993 with 'The Smell of Apples,' which won many awards and is due to be made into a film. He is currently a professor at the College of Santa Fe in New Mexico.
Review by Mary McCarthy who is currently living in South Africa. Previously, she worked as a journalist in Dublin for five years. Her most recent post in Ireland was with RTE reporting business news and writing reviews for the broadcaster's entertainment website.