Resource Title
Learning to Read the World: Teaching and Learning about Global Citizenship and International Development in Post-Primary Schools
Summary
An overview and critical assessment of curriculum-focused development education in the Republic of Ireland based on extensive data sources from formal texts, comparative examples and formal education teacher experiences of delivering DE in schools and perceptions of DE activism.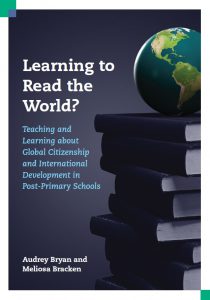 Description
This research provides a critical overall review and assessment of existing curriculum-based practice at second-level education in the Republic of Ireland; it reviews and analyses many current ideas and practices underpinning development education in curriculum documents, lesson plan assessments (75 lesson plans), curriculum-specific textbooks (not NGO literature), in the reported practices of schools and classrooms and particularly in a selection of experiences and views of surveyed teachers and student-teachers (perceptions of teachers captured through 26 in-career interviews).
Content list:
Chapter 1: Global Citizenship Education in Context
Chapter 2: Research Methodology
Chapter 3: Representations of International Development in Civic, Social and Political Education Textbooks
Chapter 4: Representations of International Development in Religious Education Textbooks
Chapter 5: Representations of International Development in Geography Textbooks
Chapter 6: Pre-Service Teachers' Implementation and Self Evaluation of Development Education Lesson Plans
Chapter 7: In-Career Teachers' Views on the Status of Development Education within Post-Primary Schools
Chapter 8: In-Career Teachers' Experiences of Educating Young People for Global Citizenship
Chapter 9: In-Career Teachers' Experiences of School-Linking and Immersion Schemes
Chapter 10: Summary and Conclusions
Chapter 11: Recommendations
A range of recommendations and findings of the research are directed at teachers, schools, teacher education programme managers/designers, the Department of Education and NCCA and funders. The main findings include:
Development Education occupies a marginal status within the formal curriculum in post-primary schools
The exam-driven focus of the post-primary system is a major obstacle to the meaningful inclusion and in-depth exploration of global justice themes in the classroom.
The status of Development Education within schools and the responsibility for ensuring that young people are exposed to social justice issues falls largely upon the shoulders of 'willing and able' teachers who have a personal and passionate commitment to social and global justice.
The discourse of development within state-sanctioned curriculum materials is not completely uniform, coherent, or consistent, either within or across texts; exceptions, inconsistencies and contradictions are evident within the same texts.
Modernization theory is the most popular and pervasive perspective on development in Irish post-primary schools. This perspective attributes few if any external 'causes' for the continuing 'underdevelopment' of majority world countries and thus offers limited scope for understanding how 'global citizens' are implicated in global economic processes.
Development activism in schools is generally underpinned by a developmentascharity framework, and dominated by a 'three F's' approach, comprising Fundraising, Fasting and Having Fun in aid of specific development causes.
Only a very small number of the in-career teachers who participated in this study had undertaken any in-service training in Development Education, resulting in few formal 'displacement spaces' wherein teachers could engage
with their own underlying assumptions, values and beliefs which affect teaching and learning in Development Education.
Teachers frequently mentioned the need for opportunities where they could come together to learn more and exchange information and knowledge about their own experiences of 'doing' Development Education in schools.