Resource Title
Learning to Read the World Through Other Eyes
Summary
Learning to Read the World Through Other Eyes was produced with a number of international partners, including NUI Galway and the DICE project in Ireland. Through Other Eyes is a four-part study programme, designed for individual or group work, and addressing the underlying values, assumptions that often remain unaddressed in global citizenship and development education.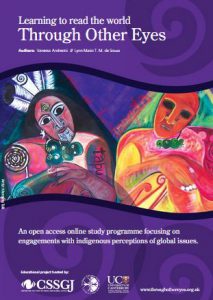 Description
Aimed primarily at student teachers (but suitable for use in classrooms, in youth and community education), this four-part study programme offers a series of cross-cultural exercises, inviting learners to:
"examine the origins of their own perceptions and cultural logics (their values and assumptions), to develop self-reflexivity, to re-evaluate their own positions in the global context and to learn from other local ways of knowing and seeing."
Each chapter is designed to guide participants with stimulus material and questions to help to unpack mainstream perspectives and to consider diverse voices, covering:
Notions of Development; Education; Equality; and Poverty.
"Based on postcolonial and poststructuralist theories, Through Other Eyes focuses on indigenous knowledge systems as epistemologies (ways of knowing) that offer different ontological choices (choices related to the ways we see reality and being) to those of the so-called 'Western' mainstream cultures." Participants "develop an understanding of how language and systems of belief, values and representation affect the way people interpret the world, and identify how different groups understand issues related to development and their implications for the development agenda."
In each chapter, participants:
Learn to Unlearn (deconstructing mainstream narratives);
Learn to Listen to 'different logics', taking in diverse perspectives and indigenous voices.
Participants Learn to Learn through:
the examination of case studies examining "the complexity of issues related to colonise-colonised relationships", and;
Learn to Reach Out, drawing on self-reflection to note any shifts in thinking and the implications this may have for one's teaching practice or other context.
Suggested use
These materials were designed for student teachers, but would be equally useful to for use in the classroom, for youth and community workers, or for development agencies and groups involved in sending volunteers overseas.