Resource Title
Millennium Development Goals report 2015
Summary
This report uses big data sets collected from various organisations to analyse the successes and shortcomings of the Millennium Development Goals. The resource gives a broad overview of data trends over time for the major themes of each of the goals.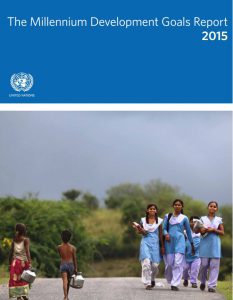 Description
This resource focuses on each of the Millennium Development Goals individually, giving key facts, data and graphs for each target, and narrative around note worthy points.
A key strength of this resource is its graphs: data is brought to life in accessible and aesthetically pleasing graphics, which bring the numbers to life. This resource would be excellent for background research or supporting a presentation on the MDGs .
While attention is brought to the shortcomings of the MDGs, a weakness of this resource may be that it does not delve deep enough into the figures and what they mean in a negative sense. A critical engagement with the data in this resource is recommended.