Resource Title
Poverty Explored: A four-week course for Transition Year students
Summary
Poverty Explored is a new four-week transition year teaching resource to help get your students exploring, debating, challenging and taking part in issues around global poverty.
Through role-plays, videos, case studies and discussions, your students will learn, engage and respond to international issues such as poverty, emergencies, human rights, gender, tax and climate change.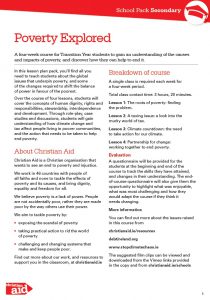 Description
This lesson pack will help you get your class thinking about their role as global citizens and how they can be part of the changes needed to help end poverty. The four classes cover:
Lesson 1 – The roots of poverty: finding the problem.
Lesson 2 – A taxing issue: a look into the murky world of tax.
Lesson 3 – Climate countdown: the need to take action for our climate.
Lesson 4 – Partnership for change: working together to end poverty.