Resource Title
Power Up: Supporting communities as they work their way out of poverty
Summary
Power Up has been specifically designed to support the CSPE/Citizenship and Religious Education curricula in the Republic of Ireland and Northern Ireland. This action-packed series of resources marks 40 years of Trócaire's Development Education work, from 1973 to 2013.
It explores key concepts such as diversity, inequality, solidarity and justice, and in doing so encourages students to challenge stereotypes and to identify links from the local to the global, through the country lens of India.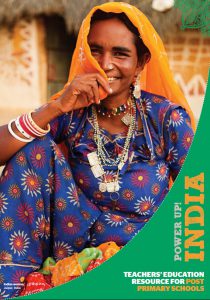 Description
Trócaire's focus country for Lent 2013 is India. 
The resources have been developed for use in Ireland and Northern Ireland for: Junior Primary, Senior Primary, Religious Education, CSPE/Citizenship Education and Foclóir. The resource materials contain:
Content, methodologies and activities to support educators in exploring and critically examining global justice and human rights issues through active engagement.
Issues exploring the role of girls and women, profiles of daily life, the caste system, equality, quick guides to the history and geography of India.
Curricular links, strand units, learning outcomes and key skills are clearly identified throughout.
An extensive interactive platform has been developed to support these resources at all levels, which includes: maps, slideshows, photo galleries, video footage, useful handouts and extension activities, all prepared for classroom use.
Downloadable resources guides for educators for navigating the site.
The resources have also made use of the values and experiences that underpin Trócaire's work abroad.
Further info:
Trócaire's main website can be found at https://www.trocaire.org
Available from:
Download teacher guides: