Resource Title
Proudly Made in Africa: A Business Studies & Development Education Transition Unit
Summary
The transition unit focuses on how Ireland is linked to a range of countries in Africa through trade based on the areas of Enterprise and Local and Global Citizenship study.
In this TU, students learn about particular African countries – Ethiopia, Lesotho, Tanzania, Mozambique, Uganda and Zambia, and about how they are linked to Ireland by trade.
They consider perspectives of people living in these countries, and examine how individuals have overcome barriers to forming successful businesses. The resource also allows students to explore ways to combat poverty through trade.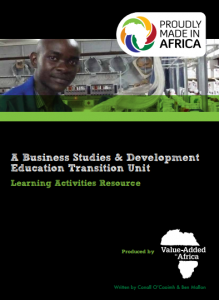 Resource Details
Author:

Conall O'Caoimh and Ben Mallon

Publisher:

Value Added in Africa

Country of Publication:

Ireland

Year:

2013

ISBN:

9780957595101

Page Count:

60
Description
While the Proudly Made in Africa resource has been produced with Business Studies teachers/students in mind, it has explicit links to a number of other curricular areas, including CSPE and Geography (at Junior and LC level).
As a development education resource it focuses on the development of key skills including critical and creative thinking, collaborative research and taking action.
The resource covers a range of topics across 14 core learning activities including gender perspectives on the social and economic effects of trade; the fair trade movement; attitudes on Africa; the challenges and barriers to livelihoods.
Student-centred learning methodologies are central to this unit and the Student Portfolio includes different approaches including reflective self-assessment. The material can be used by any teacher and does not require specialised knowledge of Africa, trade or global development issues.
This resource includes:
Literacy activities
Standardised activity frameworks with key skills, key questions, extension ideas and teacher sheets
Interactive lessons using a wide range of methodologies including role play; debate; group work etc.
Reflective exercises to practices in Ireland and in various counties
Available from:
Hard copies can be purchased from Value Added in Africa for €15. Email education@valueaddedinafrica.org or ring VAA at (01) 804 4730
MS Word versions of the pack have been made available for teachers to adapt lessons based on class needs