Resource Title
Recipe for Disaster: Who is cooking the global meal?
Summary
A resource which explores the concept of Food Sovereignty and the causes of the global food crisis, focusing on Latin America and Ireland, as well as the movement for a healthy and more sustainable food.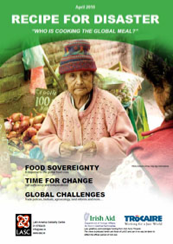 Description
Food Sovereignty is the right of peoples, communities and countries to define their own agricultural, pastoral, labour, fishing and land policies which are ecologically, socially, economically and culturally appropriate to their unique circumstances. It includes the right to food and to produce food, where people have the right to safe, nutritious and culturally appropriate food and to food producing resources and the ability to sustain themselves and their societies.
This 32-page resource explores the concept of Food Sovereignty and provides examples of people from the "Global South" fighting for their right to food. Articles provide case studies from countries such as Colombia, Mexico and Haiti, and give a background of the food crisis and how the food system works. An interview with the late Betty Cariño, Mexican activist killed in 2010, is included in the magazine.
Big Ideas in this Resource

Explores an alternative response to the Global Food crisis
Describes the Declaration of Nyeleni
Provides case studies of movements for the Right to food and alternatives to the global food system
Provides a background to the food crisis and its effects
Outlines the EU trade policies and their effects on countries in the "Global South"
Suggest Use
Background information to deliver workshops on food
A resource for people interested in the theme of food sovereignty
Further information
See: www.lasc.ie
Other annual Latin America Week themed resources: Download Thirsting for Justice: Defending the Global Water Commons (2007)