Resource Title
Redistributing Care Work for Gender Equality and Justice – a training curriculum
Summary
This training curriculum is intended for women and men to understand and challenge the conventional view of the economy by putting care for people and the environment at the centre. Care for people is intimately linked to the environment. Economic activities such as chemical-dependent agriculture and mining that can lead to environmental degradation also make household care work more difficult.
This training curriculum uses the Reflection-Action methodology and is designed for community facilitators working with illiterate or semi-literate groups. The curriculum takes participants through the patterns of providing care to people in their households, communities and society, patterns shaped by economic and budget policies of governments and companies, as well as by social and cultural norms.
Participants will discuss the impacts of these patterns and policies drawing from their own experience.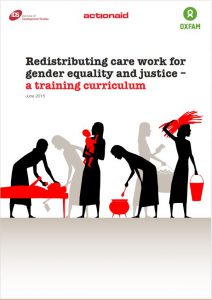 Resource Details
Author:

Maria Cascant Sempere, with input from Elizabeth Abejide, Hope Basiao-Abella, Birhanu Workneh Cheru, Deepta Chopra, Eze Victoria Ebere, Sunita Gurung, Martin Hojisk, Amirul Islam, Gurjeet Kaur, Thalia Kidder, Yeakob Metena, Rachel Moussié, Khin Khin Mra,

Publishers:

Action Aid, Institute of Development Studies (IDS), Oxfam GB

Country of Publication:

United Kingdom (UK)

Year:

2013

Page Count:

80
Description
This training curriculum is divided into five modues:
Care work and the economy
The care work context
Care work and the human rights based approach
Redistribution of unpaid care work for gender equality and justice
Ideas for action
Each module discusses core concepts in depth and issues are thoroughly dealt with. To aid the facilitator with this, each module has learning objectives, a teaching timetable breakdown and a toolkit of resources.
Each toolkit has a step by step as well as tips for the facilitator. This resource deals with a topic rarely addressed, with depth, supportive tips and benefits from a well designed layout.
It is extremely well thought out and the vastness of the topic should not overwhelm the facilitator. The facilitator is equally supported throughout the training.
As introduced by ActionAid:
"Care is around us everywhere – from the mother who takes care of her children, to the wife who cooks her family's meals, the eldest daughter who helps with the housework, and the widow who works in the community kitchen.

These different caring activities are essential to maintaining our societies and across the world are primarily done by women and girls. When this work is carried out in the person's own home and is unpaid, it is not reflected in national statistics or economic analyses, despite its centrality to our day-to-day wellbeing. It is perceived to be less valuable than paid work and it is ignored and not considered to be "work" even by the women and men who engage in and benefit directly from these activities. In part because it is invisible in national statistics and less valued, local and national authorities generally fail to design social and economic policies that can reduce women's primary responsibility for unpaid care work.

While all women regardless of class, race, caste and ethnicity are expected to provide care as part of their roles as mothers, wives, and daughters, women living in poverty are disproportionately affected by this responsibility. Unpaid care is more difficult to do in the context of poverty as basic amenities, and access to public services are lacking. Further, the income needed to purchase goods and services to undertake care work may not be available. Women must then rely on their own labour to provide the care that is required. Many women living in poverty carry the dual responsibilities for both unpaid care work and earning an income or subsistence farming. Women's responsibility for care leads to the violation of their basic human rights"