Resource Title
Schools Across Borders: Global Citizens Resource
Summary
This resource is aimed at post-primary level schools by focusing on conflict, human rights and justice issues through the lens of young people's experiences from both Israel and Palestine.
Peer -to-peer learning is used to navigate all sides of the conflict and associated issues.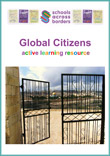 Description
The resource aims to encourage young people themselves to respond to the challenge: "Who is listening to the young people?"
The core aims of the resource are:
To improve our understanding of global citizenship and how we can make the world a more equal, just and peaceful place.
To be able to critically reflect and debate on global issues and universal concepts that will inform our future actions
To plan and engage in creative actions with our peers locally and internationally in order to create positive change
It can be used as a 40 hour module or flexibly applied to develop the relevant themes in your curriculum. It is structured into four main units in order to facilitate students to choose their learning paths based on knowledge, reflection and action.
The accompanying DVD features Israeli & Palestinian post- primary students speaking on their identities, the realities of conflict and conflict issues that they face.
Includes fact sheets, activity worksheets, maps, online photo galleries and a variety of action tasks.
Can be applied as an extra curricular project or integrated into curriculum subjects across post primary level
Integrated Learning Baselines, Personal Reflection Assessments and Learning Outcomes checklists are included with each unit to help monitor key skills development.
Pupils will be awarded a Certificate of Achievement on completion of their portfolio.
Suggested Uses
Junior Cert: CSPE Action Project, R.E. and Geography
Transition Year
Leaving Certificate: Religious Education, Geography, & Politics and Society
Leaving Certificate Applied : Social Education Contemporary Issues Task
Available from:
Hard copies are also available on request: cost €40
For schools that wish to participate in the school-linking programme, the resource is supplemented with opportunities for direct communication and action task exchanges with Israeli and Palestinian students.