Resource Title
Slave
Summary
Mende Nazer was stolen from her village in the Nuba mountains of Sudan and sold into slavery at the age of 12 years. Mende and other young girls were viciously stolen by Arab raiders who murdered and plundered through her village. In Sudan's capital city, Khartoum, Mende was sold to a wealthy Arab family, which marked the beginning of her new life as a 'Yebit' – a 'black slave'.
Mende endured years of physical and mental abuse, forced to live and sleep in appalling conditions, eating leftover food, denied all her rights and freedoms. Mende is then sent off to the UK to continue her life of slavery with the family of a Sudanese diplomat. A relative of her original 'masters'.
This true story, written by Mende and supported by reporter Damien Lewis, tells of the harrowing account of Mende's life as a slave, and her desperate fight for her freedom and being reunited with her family.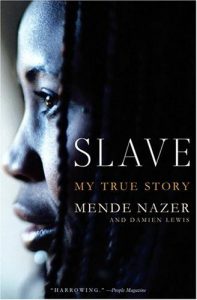 Description
According to one statistic, there are up to 27 million slaves around the world today. This includes various forms of slavery, including human trafficking. The story of Mende is not unusual. What is unusual is that she was able to escape in 2000 and tell her story to the world.
Her experience and storywasnot initially believed. Mende begins her story talking of the great strength and dignity of the Nuba people and her love for her family and community – in particular her father. It is not long before the story recounts the reality of the savagery incurred among her people by Arab traders. The Nuba people are in constant fear of raid and abduction by Arab raiders – the 'Mujahidin'. During a night raid, many are killed, houses burned and children captured for sale into slavery, many to work for Arab families in the Sudanese capital, Khartoum. At 12 years of age, she must endure physical emotional and spiritual abuse by her new 'masters'and the reality that this is now her lot, never again to be free. She is then shipped out to the UK to work for new 'masters,' Sudanese diplomats working in the UK, and relations of her current 'master'. She once again endures the harsh physical and emotional experiences in a country she does not know.
Managing to meet a fellow Sudanese, she is able to escape the harsh grip of the family and seek asylum in the UK. After 2 years, her application is declined. However, after public pressure, the Home Office relent and Mende has her asylum claim accepted.
The book is gripping. It is a testimony to a young woman's courage and unwavering spirit and commitment to the Nuba people and her faith. It reawakens the debate on slavery and trafficking and publicises the realities of the experiences of the modern day slave. It forces on us the realities that modern day slavery exists not just 'out there' but in our own communities.
Further reading
"There are more slaves today than were seized from Africa in four centuries of the trans-Atlantic slave trade. The modern commerce in humans rivals illegal drug trafficking in its global reach—and in the destruction of lives."
https://ngm.nationalgeographic.com/ngm/0309/feature1/
 There is a lot of information on slavery on the internet. To look at your own 'Slavery Footprint' see https://slaveryfootprint.org/
Check out more info and slavery and even a 'slavery map' at https://www.freetheslaves.net/SSLPage.aspx?pid=375
Available from:
Widely available from most bookshops. For example:
Check your local library collection.