Resource Title
The Global Citizen's Journey – A resource for Global Citizenship Education by young people, for young people
Summary
This resource has been produced as part of GOAL's Global Citizenship Programme, founded in the global interconnections and universality at the heart of the UN Global Goals. It was created in partnership with the 2020 GOAL Global Youth Programme participants.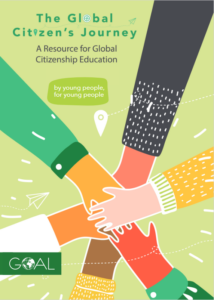 Resource Details
Author:

GOAL

Country of Publication:

Ireland

Year:

2021

ISBN:

978-1-5272-8275-9

Page Count:

49
Description
This resource is intended for use in non-formal educational environments, but also secondary school settings like Transition Year. That being said, GOAL believes that through these activities, anyone, anywhere can explore what it means to be a global citizen. The activities you'll find here are placed in a particular order, with each one building on the last. However, they work just as well on their own whenever you are ready for them.
The resource is divided into two sections:
1) Introspection: through facilitation of respectful discussions and engaging activities, participants reflect on their values and explore their perspectives and consider the challenges that individuals may face in society.
2) Building a Community: Workshops focus on discovering how communities are interconnected, how to plan community actions for change. This is underpinned by an activity that facilitates participants in finding their narrative/story.
GOAL sees this resource as an opportunity to develop the skills you already have, as well as build new ones.