Resource Title
The Millennium Development Goals Report 2010
Summary
This report is the United Nations annual assessment of global progress towards the Millennium Development Goals. It analyses each Millennium Development Goal individually and explores the progress (or lack of) made regionally using maps and graphs.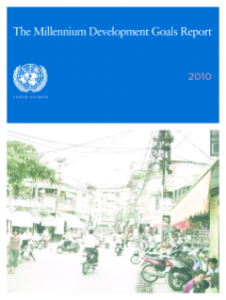 Description
With less than five years from the target date for achieving the 8 Millennium Development Goals (MDGs), the progress to date has been uneven. This UN report shows how some countries have made great strides towards reaching their targets, including some of the poorest, most notably, sub-Saharan Africa.
This report illustrates that targeted interventions, sustained by adequate funding and political commitment, have resulted in rapid progress in some areas. However, in other areas – the poorest groups, those without education or living in more remote areas – have been neglected and not provided with the necessary conditions required to improve their lives. Though progress has been made, it is uneven.
A clear message from the report shows that without a major push in the next 5 years, many of the Millennium Development Goals will not be reached in most regions.
The report includes a number of graphs, tables and charts to illustrate the current data available on the progress of the different regions towards their targets.
Big Ideas in this Resource
There has been progress towards achieving the MDGs in some regions, while in others, progress has been slow. It is unlikely that the targets in some areas will be met at current trends. Commitment to funding and political will supports progress.
Suggested Use: Information gathering, research, updating statistics
These reports are published annually.
For more information, see past reports from UN MDG website (https://www.beta.undp.org/undp/en/home/librarypage/mdg.html)