Resource Title
The White Tiger
Summary
The White Tiger tells the story of Balram, a former rickshaw-puller's son from rural India who has reinvented himself as a successful businessman living in Bangalore. He now runs a taxi business ferrying IT employees to their jobs and is not short of cash – provided the bribes are paid to the police.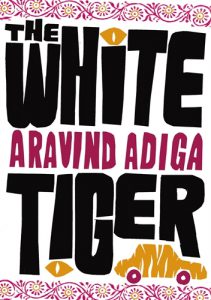 Resource Details
Author:

Aravind Adiga

Publisher:

HarperCollins India

Country of Publication:

India

Year:

2008

ISBN:

9781843547228

Page Count:

336
Description
Balram was forced to leave school early to work in a teahouse. He comes from what he calls 'The Darkness' which is a rural area called Adiga where education and electricity are scarce. He escaped this existence by becoming chauffeur to a landlord from his village, who goes to Delhi to bribe government officials. It is when he murders this employer that he gets the cash to set up his taxi business.
The book is framed around a series of letters – that he never sends – to the Chinese premier, Wen Jiabao, who is visiting India to find out how they have managed such strong economic growth. Balram attempts to explain modern India and the harsh reality of what is really underpinning the miraculous turnaround. His guide is a tale of bribery, corruption, toxic traffic jams, theft and the dark side of the servant/master relationship. Balram manages to retain the reader's sympathy, even if he has turned out to be a complete monster.
The reader sees that it was the unfairness of his life so far that has made him so awful. Aravind Adiga writes with a light touch and makes this an entertaining and often very funny read. It is also an educating one that will be relevant for a long time when so much poverty remains amid the starry reports of economic success.
About the Author
Aravind Adiga was born in Madras, India in 1974. After finishing his schooling in India and Australia he studied English literature at Columbia University, New York, and at Oxford. He worked in India as a journalist for TIME magazine from 2003 to 2005. He lives in Mumbai.
White Tiger is his first novel and won the Man Booker Prize in 2008. The book caused a storm in India because of its unflattering portrait of a country racked by corruption and a growing disparity in wealth between the classes. For although there has been strong economic growth since the nineties, there remains extreme poverty, illiteracy, lack of health care for the poor and poor sanitation. A large part of India's 1.17 billion people are poor and The White Tiger serves a voice to these. Adiga has said he feels his novel is a portrait of a society on the brink of unrest. "I'm increasingly convinced that the servant-master system, the bedrock of middle-class Indian life, is coming apart: and its unravelling will lead to greater crime and instability."
Authors website:  www.aravindadiga.com
Review by Mary McCarthy who is currently living in South Africa. Previously, she worked as a journalist in Dublin for five years. Her most recent post in Ireland was with RTE reporting business news and writing reviews for the broadcaster's entertainment website.