Resource Title
Thinking Trees: Development Trees and our Interdependent World
Summary
This primary schools resource consists of activities that encourage students to explore the importance of trees and of forests in our daily lives. It also stimulates them to think about some of the consequences of the loss of forests and trees and how, each of us can contribute positively to sustainable development.
Has been designed for teachers that may have not taught about these kinds of issues before.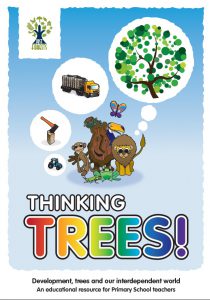 Resource Details
Author:

Tony Daly and Ciara Regan

Publisher:

Just Forests

Country of Publication:

Ireland

Year:

2012

ISBN:

095425581X

Page Count:

38
Description
This is a senior primary school resource that was developed by a team of ten teachers and piloted in six schools across Ireland. The three main themes covered by 7 activities are:
The wood of life and why trees are important
Sustainable development and managing our planet's resources
Where do we fit in?
This resource focuses on environmental education, paying attention to the role that trees play for each of us in Ireland, and abroad. The Forest Stewardship Council (FSC) logo is introduced and used to educate pupils around the concept of sustainable development.
The resource includes mixed learning activities (role play; art; survey investigation, games etc.), aim and materials, curriculum links (cross-curricular strand and strand units linking to Geography, Science and SPHE), teacher notes (with additional material, fact boxes (such as what a tree can make), quiz sheets and video links), infographics (the journey of wood – from tree to our homes) and action projects.
The resource can be delivered in 8 weeks and is supported with a dedicated website with selected videos, images and teacher supports at https://www.justforests.org/thinking-trees
A strong emphasis is placed on literacy and numeracy in the resource, with book report recommendations for various age ranges. The resource has also been developed with delivering Green-Schools themes in mind.
The Just Forests Gang Pledge is included, which pupils can sign and keep on completion of the course.