Resource Title
TIDAL: Teachers in Development and Learning – A workbook
Summary
TIDAL (Teachers in Development and Learning) is an innovative capacity building programme for post-primary Teachers. It seeks to create opportunities for teachers to learn new, fun and interactive methods of teaching that helps students to learn about the world around them and the possibilities for change and compassion – challenging the structures that create injustice and alleviate poverty. TIDAL offers practical ideas and methods to effectively deliver the curriculum in a way that promotes critical thinking, life-long learning and active citizenship.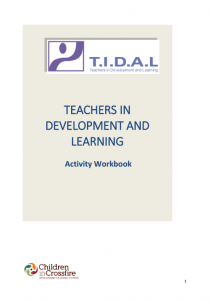 Description
In this workbook there are suggested activities, worksheets, materials needed, questions for reflection, skills, target audience and curriculum links for teaching, including:
Citizenship
PDMU (Personal Development and Mutual Understanding – NI)
The world around us
Science
English
History
Music
Maths
Literacy, and many more.