Resource Title
UNAIDS World AIDS Day Report 2011
Summary
The UNAIDS World AIDS Day report 2011 is a concise dossier on the annual progress and new possibilities for reaching the internationally agreed target of zero new infections by 2015.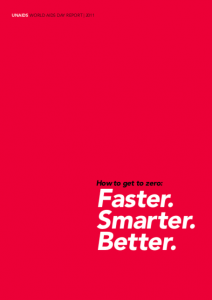 Resource Details
Author:

UNAIDS

Year:

2011

ISBN:

9789291739042

Page Count:

52
Description
At 52 pages in length, UNAIDS have produced a report that is accessible, timely and punchy. Divided into three thematic sections – 'Faster', 'Smarter'& 'Better' – the report introduces and expands upon the new mapping framework for AIDS investments, focussed on high-impact, high-value strategies following the new targets and time bound goals set in the 2011 UN General Assembly Political Declaration on HIV/AIDS: Intensifying Our Efforts to Eliminate HIV/AIDS.
The updated statistics are presented in lush tables and graphs that are classroom print ready. Some examples of this include the core progress stats at the centre of the work of UNAIDS: that AIDS-related deaths are at the lowest level since their 2005 peak, down 21%. How this has been achieved and any best practice in scientific research and policy programming are relayed through information boxes and case studies.
The report also provides international trends of the state of the pandemic by region.
That women still bear the brunt of the epidemic is a crucial admission of women's continued vulnerability to the epidemic, as the proportion of women living with HIV has remained stable at 50% globally while women are more affected in sub-Saharan Africa (59% of all people living with HIV) and the Caribbean (53%).
UNAIDS is the Joint United Nations Programme on HIV/AIDS – bringing the activities of six United Nations organisations into a single synergised effort. It carries the main responsibility within the UN system for helping countries strengthen their long-term capacity in achieving universal access to HIV prevention, treatment, care and support.
Big Ideas in this Resource
By uniting to achieve the stated targets for 2015, the global community can move towards a world with zero new HIV infections, zero discrimination and zero AIDS-related deaths.
Adopting a more focused and strategic approach to AIDS is essential for success. The world will succeed in meeting the targets for 2015 if sufficient and strategic investments are made in efficient and effective programmes.
Now is the time for action, the time to translate words of commitment into meaningful and lasting results for people. By mobilizing the political will, showing international solidarity and commitment, improving the strategic use of resources, and effectively deploying available tools, it will be possible to arrive at a world in 2015 that is decidedly healthier, more just and more inclusive than today.
The knowledge and the tools to defeat AIDS now exist. Decisions made now will determine whether this is truly the beginning of the end of AIDS.