Resource Title
What's the problem with wasting food?
Summary
What's the impact of your 'footprint'? This animation takes a look at the energy, water and land costs in producing a beef sandwich. For example, agriculture accounts for over 70% of the world's water use. This video was produced in partnership with Global Food Security for Biology Week 2013.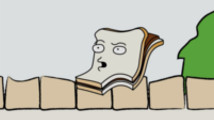 Description
Published on Oct 7, 2013
As a UK resource this resource is accompanied by UK-specific teaching activities which can be easily adapted.
Assembly, TY Unit and SPHE this three minute animated video about food waste is designed for use in assembly, form time or SPHE, and is accompanied by notes.
Biology Junior Cycle lesson (designed for GCSE): 'Inputs into beef cattle' – how cattle are reared in the UK, how the biomass decreases up the food chain, the environmental issues associated with beef farming, and nutrition information.
Further info