Resource Title
Who We Are: dealing with difference
Summary
This resource focuses on exploring identity and belonging at both individual and community levels. It contains material for teachers and youth workers to use with children and young adults focusing on sectarianism and ways of moving beyond it.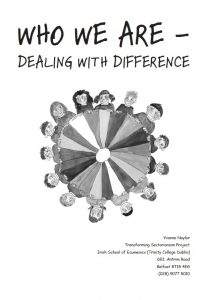 Resource Details
Author:

Yvonne Naylor

Country of Publication:

Ireland

Year:

2004

Page Count:

200
Description
This resource aims to make available practical, attractive, experiential and multi-media resources, appropriate to both school and youth settings, which will facilitate the exploration of some key issues and themes from the research project 'Moving Beyond Sectarianism'.
It seeks:
To develop children's and young people's understanding of 'who we are', exploring identity
and belonging at both individual and community level
To develop an understanding of own and other's feelings and emotions
To promote positive identity
To consider similarities and difference within and between communities
To develop skills for handling conflict and 'dealing with difference'
It is strongly recommended that anyone wishing to use activities in this resource in either the formal school or informal youth sectors, and not familiar with 'circle time'; small group work; and experiential, action-based learning with young people, seek and attend some training before using them. There are a number of organizations that provide such training and they are listed in the skills section of this introduction. For further reading, there is also a separate bibliography provided, in each of the three sections.
This resource includes:
Extensive guidance notes for facilitators
Games, templates and detailed activity notes
Detailed extended links support for further research and reading
_______________________
Contents list:
WHO WE ARE
learning about:
sectarianism
identity – own; family; community
belonging
historical roots
WE ARE
learning about:
identity and belonging
making and using worship resources
DEALING WITH DIFFERENCE
learning about:
feelings
difference
conflict
processes