Resource Title
World's Best News 2014
Summary
The World's Best News is a newspaper that brings you stories of hope and change from the developing world. This is the second issue in the series.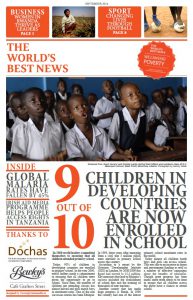 Description
Global malaria rates have fallen by 45%…1200 girls stay in school in north west Kenya…The elderly activists of Tanzania…Major step forward for LGBT activists
These are just some of the stories to be found in the 2014 issue World's Best News (WBN). Packed full of success stories, statistics and recent advances across the developing world.
On 27th September 7,000 copies of the WBN newspaper were freely distributed in Cork, Galway and Dublin.
From the editorial of the WBN:
"The World's Best News highlights the remarkable progress in the fight against extreme poverty. It is a news service that-unlike other media; does not only focus on the dramatic and the sudden, but that tells the bigger stories of hope and change that normally remain hidden. The World's Best News is about telling the stories of the historic and unprecedented revolution that is slowly unfolding behind the headlines: the unreported reality of steady and unrelenting improvement in human lives right across the world.

…

Research shows that the vast majority of people in Ireland think that they are receiving enough information about the developing world, yet only 19% say that they feel well informed about developing countries. And despite the many reports about progress in the fight against global poverty, about half of the people in Ireland don't think that Africa is any better off now than it was 20 years ago.

The news gives the impression that Africa is a mess: poor and dependant on aid. In the busy mainstream news agenda, there is little scope for other stories in this paper we will show you the other reality.

….

Stories that can help us make sense of the world and help us make better decisions. Globalisation means that our lives are interwoven with those of everyone on this planet. Our prosperity in Ireland depends on the prosperity of the rest of the world. So if that world is changing, our media should report on it. Particularly, if those changes are too slow to make headlines.

In this paper we find space for the important, not merely the urgent, stories."