Today, the 21st of September, is International Day of Peace. Toni Pyke (and her six year old son) reflect on what peace looks like.
On his first day back at school, my 6-year-old son was asked what he thought 'peace' may look like or how it may smell. I was fascinated by the characterisation of 'peace' as a sensory concept. For him:
"Peace smells like flowers
Peace looks like colours
Peace looks like faces."
Not only because it is my son, but this is brilliant! I stopped to think about how I could visualise peace. Yet, I could only translate the idea in terms of the absence of war and conflict, falling short of what that may look or smell like.
A sensory concept of peace as portrayed through colour, faces and flowers promotes an understanding of the realities of peace as human, as multi-racial, a togetherness represented through an interpretation of nature. While this may sound, for some, very 1960s, the fundamental idea behind peace and experience of non-war, remains relevant today as it did more than half a century ago.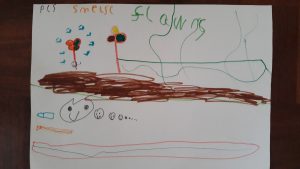 Today's global conflict realities obscure our abilities to see, hear, smell or touch peace. It is becoming increasingly difficult to remain composed in a global environment that appears to promote war, conflict, unfreedom, violation of individual and collective rights at almost every level.
An extreme example is the war in Syria. For Syrian children forced to exist in refugee camps around the world as the conflict in their home country, peace means, going home, riding their bike, playing with friends, eating their favourite food, going to school, 'reading a book on my porch',  'sleep in my bed', rebuild their country. For these children, peace means the freedom to return to the normalness of the everyday activities that we often take for granted. Yet, visualising the wants and hopes of these children in the potential ceasefire of this conflict, sees only hopelessness in the near total destruction of the country's infrastructure. There are no homes to return to, no restaurants, no schools, no hospitals. Friends, family, teachers, doctors have been killed or are missing.
If we look at the Global Conflict Tracker website, current conflicts are divided into 3 types of conflict: Critical – which lists 7 conflict situations; Significant – in which there are 11 conflict situations; and Limited – where there are 10. This brings the total number of global conflict 'situations' to 28! According to the Global Peace Index, the cost of supporting this violence through military spending and violent crime is estimated at $14.3 trillion (£9.2 trillion), or 13.4 per cent of the world's GDP.
Sadly, the index finds that "the world continues to spend enormous resources on creating and containing violence but very little on peace", and that over the last decade the world is becoming less peaceful.
Also, conflict is not limited to war 'over there', as has been acutely demonstrated by the violence experienced through the destabilising effects of Brexit and the inauguration of Donald Trump as the 45th President of the United States, through the rise of 'hate' groups and 'hate' crimes.
The subjugation, provocation and violence of those opposing state violence is a less conspicuous war on peace, which is why, more than ever we need to make our voices heard.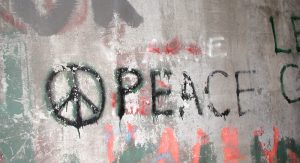 One way to promote peace is to actively engage and celebrate in the International Day of Peace on the 21st of September. Some 35 years ago, in 1982, the first Peace Day was observed aimed at: "strengthening the ideals of peace, both within and among all nations and peoples." The theme for 2017 is "Together for Peace: Respect, Safety and Dignity for All."
This year the UN plans to:
"focus on engaging and mobilizing people throughout the world to show support for refugees and migrants. Its messages will be shared with communities hosting refugees and migrants as well as people concerned that refugees and migrants may bring physical and economic insecurity to their lives…Ultimately, it will be about bringing people together and reminding them of their common humanity."
The UN also has a message for the role of young people in our societies in supporting global peace:
"Young people will have a vital role to play. For example, they can volunteer to welcome and help refugees and migrants in their communities. They can also extend the hand of friendship to young refugees and migrants who they might meet in their classrooms and neighbourhoods."
The International Day of Peace website outlines some of the ways people around the world are marking the day, which include:
Minute of silence at 12 noon (all timezones)
Peace education events
Intercultural and interfaith dialogues
Workshops on the UN Peace Day theme
Meditation and prayer
Planting peace poles
Community gatherings
Vigils
Concerts and festivals
Soccer/football matches in the spirit of peace
Service to others
Feasts for Peace
Writing peace poetry
Yoga
Marches, parades and flag ceremonies
Public programs with government officials
Engaging youth in peace-building activities.
As with all of these UN 'days', remember that there are 364 other days that require your concerted attention to achieve and sustain peace throughout the world. As my son's simple exercise demonstrates, imagining how peace would feel, sound or smell to you and what it would look like is a conscious individual step in being aware and appreciating peace and in grounding your actions.
Explore the online exhibition with 100 objects providing a snapshot of Irish engagement with global cultural, political and social issues over the past 50 years.
More on developmenteducation.ie

Are you involved in education work and interested in joining our Education Advisory Panel? We are seeking new members from people active in formal or non-formal education roles.
Read More »