Journalist Órla Ryan travelled to Kenya in April 2019 on an assignment to examine women's rights issues, in particular female genital mutilation (FGM) and gender-based violence. Órla's notebook, where she documented facts and stories from her trip, was included in the Irish Global Solidarity in 100 Objects Exhibition, which is now online.
For Órla's work documenting human rights issues and stories in Kenya, the Lebanon and in Ireland she won the prestigious Irish Red Cross Journalism Excellence Award 2020.
Órla joined a number of speakers at the opening event on February 28, 2020 to share a few words about their objects included in the exhibition.

First of all, I would like to thank Tony and the team at DevelopmentEducation.ie for their invitation to take part in this exhibition, and all their hard work behind the scenes in putting the event together.
We've already heard some really interesting insights from Michael, Grace and Ruairi – and, as you can see around us, there are many fascinating objects on display here.
As Tony mentioned, I'm a reporter with TheJournal.ie. I've written about many topics over the years but have a particular interest in social justice issues, women's right and FGM.
I'm now going to talk a little bit about my small contribution to the exhibition: a notepad I used on assignment while in Kenya last April, as well as two photos I took on the trip.
When Tony first got in touch about the exhibition, I knew I wanted to take part but was struggling to think of an object I could contribute. I told him something to the effect of, "All I really have are my words and my photos." So, we decided to use those.
The two images on display are taken from a report I compiled about efforts in Garissa County to protect girls from FGM and child marriage.
In Kenya, about one in every five females aged 15-49 have undergone female genital mutilation. The country outlawed FGM in 2011 – a year before the practice was made illegal in Ireland – and the number of females subjected to the practice has decreased in recent years.
However, the prevalence varies widely in different regions, and almost every single girl and woman living in Garissa has undergone the practice.
In that region, as is the case in many other parts of the world, FGM is linked to child marriage and girls are not deemed 'fit for marriage' until this procedure is carried out.
However, after many years of hard work, NGOs and activists are helping to change people's views and raise awareness about how harmful and unnecessary FGM is.
For this report, I interviewed activists who are working to protect girls, including women who previously worked as circumcisers but now campaign for an end to FGM.
One of the images on display shows Hilay Garad Hassan, a former circumciser, holding the knife and razor she once used to carry out FGM. Hilay, who is now 67, worked as a circumciser for about 35 years. It was a job she inherited from her mother.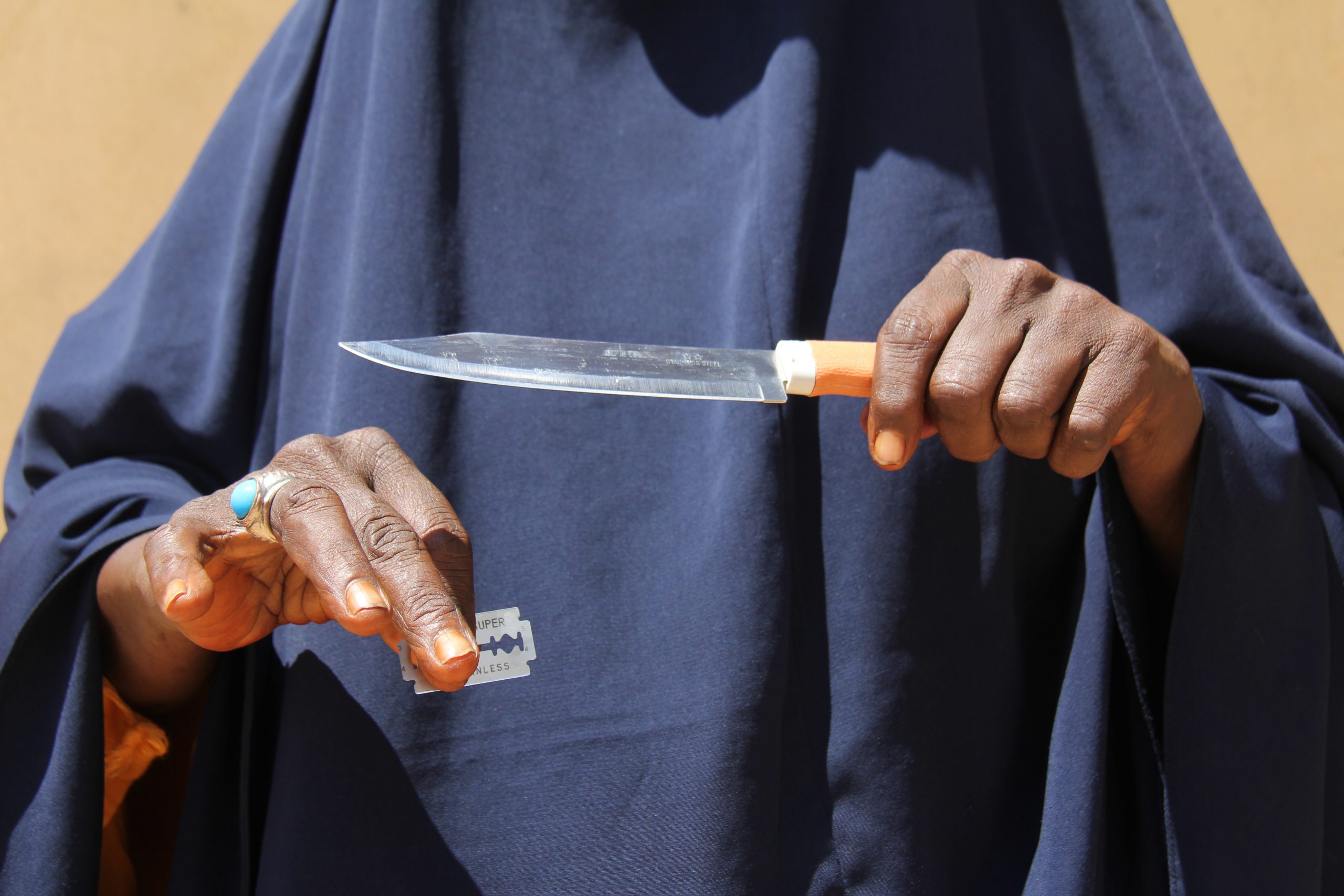 Hilay was very generous with her time and very honest about her work, as well as how long it took her to change her views.
Hilay was acutely aware of how difficult it can be to change a person's lifelong beliefs. She herself underwent FGM and was married off to an older man when she was just 13 years old.
Through engagement with the Kamuthe Women's Network – a local grassroots group that is supported by ActionAid Kenya – she began to change her mind, over a number of years.
Hilay explained to me why she was, for a long time, reluctant to engage with the women's network.
She told me:
"Initially it was like they were coming to fight my culture, they were coming to fight my source of income, they were coming to fight my rights. We really fought with them, we said what they were doing was a westernised thing, like they were driving us away from our culture.

But later on, after three or four years of having that conversation with them, I realised that we were wrong, I stopped cutting about three years ago. I surrendered all of the items I used."
Hilay is now part of the women's network and works with the group to raise awareness about about the dangers of FGM, and try to convince other circumcisers to change their views.
I could talk for much longer about FGM, however, there is only so much I can fit in today. But, one thing I would like to note is how Hilay's comments highlight the importance of conversation, sharing stories, and learning from other people.
For the report on Garissa, I also interviewed Maka Kassim, the chairperson of the Kamuthe Women's Network.
Maka is a remarkable woman who wants to become the area chief in Kamuthe, a role never held by a woman. She has unsuccessfully applied for the position three times but remains undeterred and plans to run again.
When I spoke to her, she explained that for far too long women had "no role in family decision-making" and "were denied the right to participate in public meetings" – but that is slowly changing thanks to people like her.
I'd like to finish with a quote from Maka herself about the women's network:
"We have struggled for a long time, we have been threatened, we have been caned, but there is a saying, 'Where there is a will, there is a way'. We have struggled but we are proud of ourselves, we have achieved a lot. Our aim is to achieve equality for women and girls, and we will keep working towards that."
Explore Órla's notebook as included in the online exhibition of Irish Global Solidarity in 100 Objects and related reports filed from Kenya.
For more, check out Órla's reports on TheJournal.ie