A 'workload update' of Al Thumama Stadium one of the Qatar 2022 World Cup stadiums, which is located in the Al Thumama area. It's design was inspired by the gahfiya, the traditional hat worn by men in the region. Photo by the Supreme Committee for Delivery and Legacy, Qatar (2020)
Explore 3 key 'sportswashing' issues the Qatar World Cup hosts don't want you to know about. A list, by Kai Evans.
The FIFA World Cup is, arguably, the most popular sporting event in the world and should be a cause for excitement and celebration. The 2022 World Cup in Qatar, will be anything but for the families of 6,750 migrant workers who have died since Qatar won the bid ten years ago to host the games, revealed in a Guardian investigation in 2021.  While the figures were challenged by the Qatari government and followed by a report from the International Labour Organisation calling for better data collection on work related injuries and fatalities, the human rights spotlight has squarely been on World Cup preparations.
As part of a 2016 investigation by Amnesty International, every one of the 231 migrant workers interviewed in Qatar had reported abuses of one kind or another at the hands of the contractor companies supplying labour to construction projects. Secretary General of Amnesty International in 2016 Salil Shetty had harsh words for Fifa, accusing it of "indifference" to the abuse of migrant workers, which he said was a "stain on the conscience of world football".
The term 'sportswashing' has gained increased attention in recent years – it describes the use of prestigious sports events by oppressive governments to legitimize their regimes and distract from their human rights abuses by polishing their public image on an international stage. While The Guardian reports that the term was popularised by Amnesty International in 2018, the practice of sportswashing is, however, nothing new. For example:
Russia's 2014 Winter Olympics
Heavyweight boxing in Saudi Arabia
Formula 1 Grand Prix' in brutal dictatorships
The LIV Golf Tour
Newcastle, Manchester City and PSG's ownership by Arab leaders with horrific human rights records
Chelsea's ownership by one of Putin's oligarchs.
The 2022 World Cup in Qatar is one of the worst examples of sportswashing since Hitler's infamous 1936 Berlin Olympics and Argentina's murderous military junta hosting the 1978 World Cup, due to the sheer global nature of the event and the egregious number of deaths in its build-up.
This summary focuses on three key issues we should all be aware of before the World Cup kicks-off this month.
1. The rights of migrant workers
Perhaps the most talked about issue surrounding the Qatar World Cup is the horrific exploitation of migrant workers. Workers from South Asia have often travelled to the region in search of construction jobs, and this increased exponentially following Qatar's 'successful' World Cup bid.
However, since then, at least 6,750 migrant workers have died, approximately double the amount of those killed during the 30 year Troubles in Northern Ireland.
For further comparison, just 8 workers died during the construction of stadiums of the 2014 World Cup in Brazil, while just two died in South Africa for the 2010 World Cup. Many of these deaths in Qatar are unexplained or have vague causes on death certificates, such as 'natural causes.'
Many thousands more who have survived have been subject to horrific, cramped living conditions, are often unpaid or have no access to food. This is in addition to labour laws such as kafala, which links a migrant worker's visa to their employer, making it effectively impossible for a worker to leave their job or move to a new one without their employer's permission. It is a form of modern-day slavery. 
While Qatar's labour laws have improved somewhat in recent years, it only happened after more than ten years of being awarded the World Cup. Furthermore, it is interesting that these changes have only taken place after the most intense phases of construction, and numerous groups, such as Human Rights Watch and Amnesty International, have criticised the patchy, slow and incomplete nature of these reforms' implementation. Many of these organisations have called for compensation for families of migrant workers who have died, and it is essential pressure keeps being applied to have some success on proposals such as this.
2. LGBTQI+ and women's rights
While FIFA supposedly celebrates Pride Month and promotes the sport as an inclusive, safe place for all, they also support a Qatari regime where homosexuality is punishable by death (for Muslims in Sharia courts) or a three year prison sentence (for non-Muslims). As recently as 2013, Qatar, along with other Gulf countries, were attempting to create a so-called 'medical' test which would be able to 'detect' and subsequently ban gay foreigners from entering the country. But at least FIFA flies a rainbow flag once a year, right?
Not only are members of the LGBTQI+ community actively discriminated against in Qatar, so are women. Sex outside of marriage is punishable by seven years in prison, as is birthing an 'illegitimate' child. Generally, women can avoid these punishments if they marry the man they had sex with. Meanwhile, men are rarely, if ever, held responsible for their actions in these instances.
Finally, forced marriage is common, and if a woman resists, the consequences can be serious. For example, Noof Al Maadeed fled Qatar in 2019 to escape a forced marriage, and her story of escape went viral on TikTok. Upon returning home in 2021, she mysteriously disappeared, with many sites reporting her death. However, earlier this year, she appeared to resurface, with little explanation as to where she is or what happened in the previous months. Many believe she is being detained by Qatari authorities. But at least FIFA 'celebrate' International Women's Day, right?
Despite this, it is publicly stated that LGBTQI+ people and women are welcome at the World Cup and will be safe. It's difficult to see how this can be possible.
3. Bribery and corruption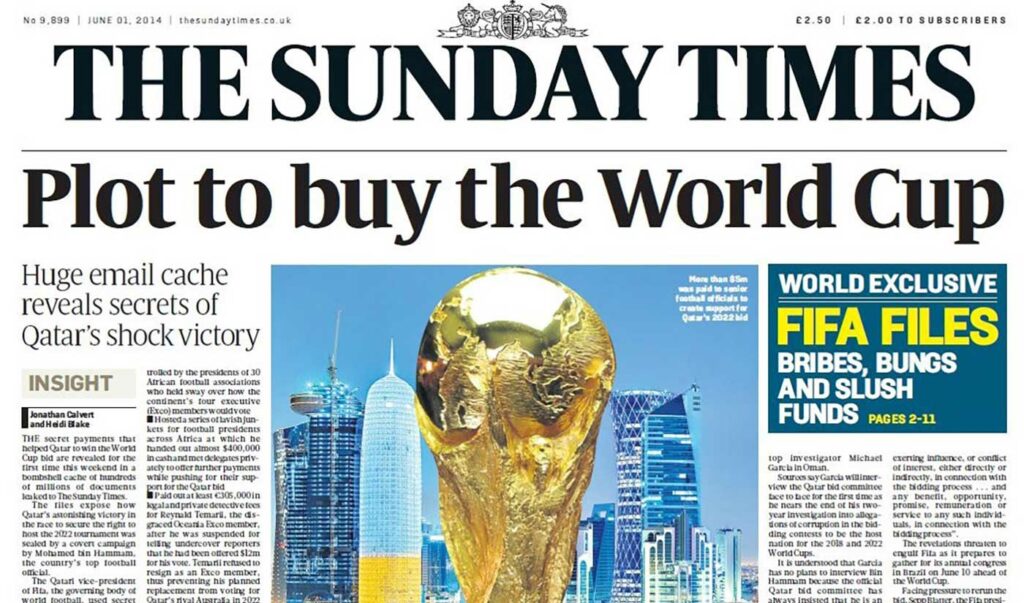 This is all without mentioning the process through which Qatar were actually awarded the World Cup in the first place. The bribery and corruption allegations associated with the process may seem less pressing given what has been discussed already, but they are important nonetheless.
Qatar was awarded the 2022 World Cup hosting rights in 2010 ahead of Japan, USA, Australia and South Korea. Since then, the allegations of corruption have been plentiful and global, so this is merely a brief summary of just some of the allegations.
Nine days prior to the key FIFA vote, Michel Platini, French football legend and then President of UEFA (Europe's football governing body), has lunch with French President Nikolas Sarkozy and Sheikh Tamim bin Hamad al-Thani, the current Emir of Qatar
Following this lunch, deals between French companies and Qatar have been plentiful. Qatar Airways bought 50 planes from Airbus, whose head office is in Toulouse, France. Qatar Sports Investment, a part of their sovereign wealth fund, bought Paris-Saint Germain (PSG), one of the biggest football clubs in France. Finally, BeIN Sports, a state-backed Qatari broadcaster, paid never-before-seen sums for coverage of French football's top division, Ligue 1
Mohammed bin Hammam, who is Qatari and was President of the Asian Football Federation, allegedly paid other Asian members in exchange for votes
At a key FIFA Executive Committee meeting in December 2010, Nicolás Leoz, then President of CONMEBOL (South America's football governing body), Ricardo Teixeira, Brazilian federation president and Julio Grondona, Argentinian federation president, were all accused by a 2020 US indictment of accepting money in return for voting for Qatar. Only Teixeira may still stand trial, as Grondona and Leoz died in 2014 and 2019 respectively
Sepp Blatter, then President of FIFA, was banned from all football activity in 2015 following investigations, as was Platini, head of UEFA. Both are currently on trial in relation to bribery in Switzerland
Finally, FIFA's independent ethics investigator, Michael Garcia, ultimately quit his role in disgust over the handling of his report into corruption allegations within FIFA. He claimed the final version of his report was 'materially incomplete' with 'erroneous representations'.
All of this money lost through widespread corruption should have been funnelled into the beautiful game itself, supporting grassroots football, community programmes and clubs around the world. All of these are important for people's physical and mental health, as well as education and infrastructure.
Sport has the power to change lives for the better, and it's utterly disgraceful when one thinks of how many lives could have been changed with the billions of euros lost to this alleged corruption as a result of the Qatari bid and FIFA's reprehensible mismanagement.