Resource Title
2010 UNDP Human Development Report – The Real Wealth of Nations: Pathways to Human Development
Summary
20th edition of what has become a yearly landmark report on global development. Looks back at the past 20 years and seeks to identify successful development trends. Also includes the UNDP's annual gamut of statistics – most notably its Human Development Index (HDI).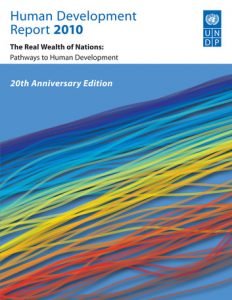 Resource Details
Intended Audiences:

16+ years, Adult and Community Settings, Higher Education, Senior Cycle, Transition Year, Youth Groups

Formats:

Book, Factsheet, Policy Document, Report, Research Document, Website

Topics:

Development, Micro-credit
Description
The report argues that:
'Over the past 20 years many people around the world have experienced dramatic improvements in key aspects of their lives. Overall, they are healthier, more educated and wealthier and have more power to appoint and hold their leaders accountable than ever before', nonetheless 'nearly 7 billion people now inhabit the earth. Some live in extreme poverty—others in gracious luxury.'
The report analyses the past 20 years of development and finds that impressive long-term development gains are not necessarily tied to economic growth. It also finds that while the income gap between rich and poor nations continues to grow, poor nations are nevertheless closing the gap in a number of key areas. While three countries – Zambia, Zimbabwe and the DRC – have a lower HDI in 2010 than they had in 1970, a number of other countries – China, Indonesia, South Korea, Nepal, Oman, Tunisia – have made remarkable progress.
Big Ideas in this Report
Convergence is occurring and overall, poor countries are catching up with rich countries in key respects while divergence continues as regards income
There has been widespread and substantial progress in education reflecting improvement in the quantity of schooling available, getting children into school and also in the equity of access to education for girls and boys
The share of formal democracies worldwide has increased from fewer than a third of countries in 1970 to half in the mid-1990s and to three-fifths in 2008.
Since the 1980s, income inequality has risen in many more countries than it has fallen; for every country where inequality has improved in the past 30 years, in more than two it has worsened (especially in former Soviet Union countries). Most East Asian and the Pacific countries have higher income inequality today than a few decades ago
People in sub-Saharan Africa suffer the largest losses in human development because of substantial inequality across all 3 dimensions of the HDI (education, health, income) whereas in other regions, losses are more directly attributable to inequality in one single dimension e.g. as for health in South Asia.