Resource Title
A Rich Man's World?
Summary
A Rich Man's World? examines justice issues such as poverty, education, employment, wealth and fair relationships between countries and people. Designed for anyone working with young people, such as in voluntary or formal teaching settings, it is a practical hands-on resource with a particular focus on Ireland, and Zambia and the power of young people to be agents of change in their own communities.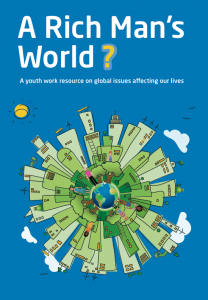 Description
At 42 pages in length, this youth resource is activity driven from beginning to end – with 20 activities in total that aim to stimulate and challenge young people to reflect on the inherited global inequalities that define the world around them through various 30 to 60 minute sessions. Each session can be selected and facilitated according to group interests or the time and resources available.
Following a background fact sheet on Ireland's economic situation the resource is divided into 4 sections. The first section explores how we are connected through people, places, products and the internet. Globalisation and the inequalities in the distribution of money, food and people are also introduced. Section two uses 'how it works' as a starting point to explore the rules of trade, decision making, debt and different types of power to reflect on the rights and wrongs of powerful individuals, groups, companies and countries. The third section focuses on the affects of unfair decisions and treatment within the context of local and global communities and the implicit links that young people have with the outcomes – as well as opportunities to change this. Section four consolidates the previous learning by exploring the options for (sustainable) long term action that young people can take as consumers, attitude survey data collectors and agents of change in their own community.
This resource also makes extensive use of interactive group work in the activities by providing fact boxes, action ideas, case studies, creative role play scenarios and games (for example, a snakes and ladders game based on the ups and downs of available opportunities to workers).
Big Ideas in this Resource
Young people as students, workers and consumers have real power
Changes can be brought about locally as well as globally
We depend on each other – across countries and across communities. We are, in essence, interdependent. This link can have positive as well as negative impacts
Ideas of global justice relate directly to local practice. Our ability to change the exploitation of people in far away places, for example, comes from our willingness to not buy certain products and services and to support sustainable alternative ones instead