Resource Title
Action on Global Citizenship: teacher toolkit
Summary
Global Action Plan (GAP Ireland) support schools, communities and businesses to take practical, environmental action to live and work in a more sustainable way. GAP Ireland is part of GAP International – a global network of organisations in 27 countries that facilitate behaviour change to promote environmental sustainability. In researching and compiling this resource, the goal was to support Ireland's educators in enabling students to grow into active global citizens and become more skilled in evaluating their own personal ethics and impact of their decisions.
This toolkit aims to bridge the gap between Education for Sustainable Development (ESD) and Development Education (DE) through an environmental education perspective. It will give you some fun and creative ideas on how to get informed about the Sustainable Development Goals (SDGs) and create active global citizens and do your bit for the planet.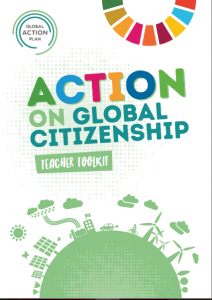 Resource Details
Author:

Aoife Flynn (Ed) with Gráinne Ryan and Deirdre Walsh

Publisher:

Global Action Plan

Country of Publication:

Ireland

Year:

2017

Page Count:

52
Description
This toolkit is organized into 8 chapters, each with a different theme and strongly linked to the Sustainable Development Goals (SDGs), or Global Goals as they are commonly referred to.
While you can certainly flip between chapters, it is recommend to start with Chapter 1 as it will provide a good introduction to Sustainable Development and allow you to explore the following chapters at your own pace. There are introduction activities, main activities and extensions in each chapter, with clearly marked Learning Outcomes, Cross-Curricular links and important Key Skills.
Contents cover:
Sustainable Development
Development
Ecological Footprint
Global Justice
Poverty and Inequality
Climate Change
Sustainable Communities
Campaigns
Reflection