Resource Title
Advocacy: Capacity Development for Youth Groups (Training Guide)
Summary
This resource supports youth clubs and youth capacity development in the area of advocacy.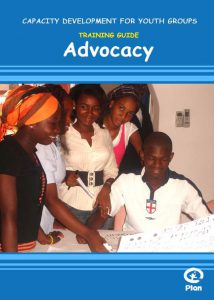 Resource Details
Author:

Plan West Africa and partners

Publisher:

Plan West Africa

Country of Publication:

Senegal

Year:

2010

Page Count:

52
Description
"The term 'Advocacy' covers a broad range of activities at various levels, from the official policy-making level down to the family and community level. However the activities that we are proposing in this book and that you will learn to use are based in your life environment, within your family and your community. Their aim is to help you acquire skills that will be useful for you to approach more complex spheres, at the most appropriate time for you."
This guide was developed jointly by Plan and development partners in Togo and is now used in the West African region to support youth capacity development in the area of advocacy.
The 'Youth Advocacy' curriculum has six objectives:
To explain the meaning of advocacy
To review some of the underlying concepts of advocacy: power, citizenship, duty-bearers
To understand the detailed process of an advocacy campaign
To learn and practice techniques for advocating for your rights
To learn how to assess and minimize risks
To learn how to plan an advocacy campaign
Each chapter is supported and illustrated by games, cartoons and exercises.
Includes a helpful 'Advocacy step by step' that reviews the entire advocacy process and will enable you and your group to put together a systematic, but not difficult campaign.
Contents list:
Chapter 1 What is Advocacy?
Chapter 2 Our Vision, an Ideal or a Dream?
Chapter 3 Causes and Consequences – The Problem Tree
Chapter 4 Rights and Duties
Chapter 5 Who Decides?
Chapter 6 Planning our Action
Chapter 7 Advocacy-Related Risks – How to Minimize Risks
Chapter 8 Advocacy – Role-Playing Exercises
Appendix 1 The Stages of Advocacy (Step-by-Step Method)
Appendix 2 Checklist for Advocacy