Resource Title
An economy for the 1% – How privilege and power in the economy drive extreme inequality and how this can be stopped
Summary
This paper argues that 'the fight against poverty will not be won until the inequality crisis is tackled.' This paper analyses the inequality crisis with up to date figures, graphs and analyses. The argument builds up to advocacy and policy recommendations to tackle the crisis.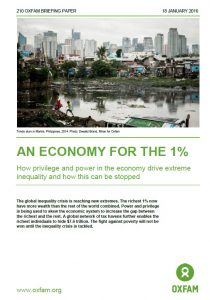 Resource Details
Author:

Deborah Hardoon, Sophia Ayele and Ricardo Fuentes-Nieva.

Publisher:

Oxfam

Country of Publication:

United Kingdom (UK)

Year:

2016

ISBN:

978-1-78077-993-5

Page Count:

44
Description
This paper is part of a series of papers written to inform public debate on development and humanitarian policy issues. This paper in particular focuses on the argument that 'the richest 1% now have more wealth than the rest of the world combined.' This paper describes how 'power and privilege is being used to skew the economic system to increase the gap between the richest and the rest. A global network of tax havens further enables the richest individuals to hide $7.6 trillion.'
The paper opens with a summary. The chapters are as follows:
The world is getting richer, but some gain more than others– This chapter is about the data and graphs
Power and privilege in action – this chapter argues the why of the inequality crisis
From exclusive economies to inclusion and fairness – this chapter focuses on Oxfam's recommendations and advocacy focus.
All arguments are fully referenced in the appendices.