Resource Title
Challenging Perspectives: Teaching Globalisation and Diversity in the Knowledge Society
Summary
Challenging Perspectives is a report of a conference of the same title, organised by DICE (Development and Intercultural Education) as an e-book of development education and intercultural education research for teacher educators.
It includes a selection of articles focused on providing insights into how "educators can gain the capacity to impart a critical awareness of media representations of the Global South and thereby resolve some of the challenges posed by the knowledge society."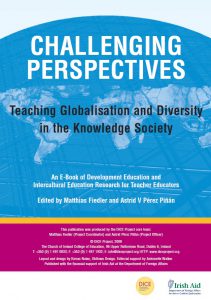 Resource Details
Author:

Matthias Fiedler and Astrid V Pérez Piñán

Publisher:

DICE Project

Country of Publication:

Ireland

Year:

2008

Page Count:

84
Description
The e-book is separated into 2 separate sections:
1. Contemporary challenges in teaching and learning about globalisation and diversity. This section includes:
Separating 'development and intercultural education' – meeting the needs of 21st-century Ireland by Barbara O'Toole and;
The role of technology in addressing contemporary teaching and learning challenges by Anna Dillon and Deidre O'Rourke.
2. Challenging perspectives of the world in the classroom:
Imaging of the South vs images from the South by Son Gyoh;
Beyond the image: the intersection of education for development with media literacy by Gerry Jeffers;
Teaching and learning in plurilingual schools: lessons from classrooms in Dublin 15 by Seán Bracken, Áine Clerkin, Brietta Mcdonnell and Nell Regan;
'Who lives here?' developing children's awareness and knowledge of cultural diversity: a school-based project by Ronan ward