Resource Title
Development Education in Theory and Practice: An educator's resource
Summary
This publication has been produced to provide a new teaching resource for academics and educators active in the field of Development Education and related disciplines. It covers twelve themes, each chapter includes both a conceptual overview and a teaching methodology section. The conceptual overview introduces the topic, explores the key concepts, theories and current debates. The teaching methodology section gives educators a set of tools that could help them introduce the topic in both formal and non-formal settings.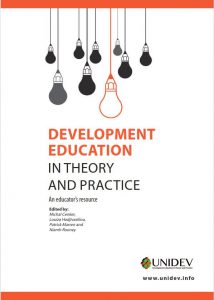 Description
The major themes covered in this resource are:
Development Education in Third Level Education
Global Citizenship Education in post-2015
Poverty: Who, Where and Why?
Global Inequality: Drivers and Challenges
Local and Global Governance: Role and Impact in Development
Migration and Development
Sustainable Development v. Economic Growth
Climate Change: Threats and Challenges
Food Production: Global Business, Local Consequences
Global Health: New Challenges
Human Rights Based Approaches to Development
From an Armchair to the Field. Civil Society and Social Activism: How to be Relevant and Engaged
Contributing authors include Eilish Dillon, Juraj Jancovic, Pavlos Koktsides, Alexander Apostolides, Odysseas Christou, Stavros K. Parlalis, Artur Wieczorek, Juraj Mesík, Grace Walsh, Tom Melvin, Snježana Bokulic, Zuzana Fialová.
Overall there are 52 teaching tools within this resource, spread over the 12 themes. Each theme/chapter has a full bibliography for further reading.
About UNIDEV
UNIDEV – Bridging the gap between theory and practice was a 3-year project, funded by the European Commission, and implemented by the NGO Support Centre in Cyprus, the Pontis Foundation in Slovakia and Kimmage Development Studies Centre in Ireland during 2013-2016.
This UNIDEV website was created within the framework of the project and can be used as a free resource tool by anyone interested in development related topics as it features a number of reports, policy papers, e-books and presentations on the topic