Resource Title
Development Issues: Ending Hunger
Summary
Ending Hunger is a four-page fact sheet exploring the main issues and questions raised about hunger, written in a very accessible and user-friendly manner.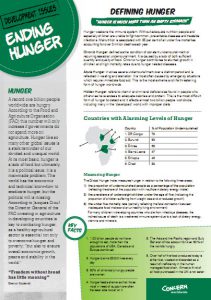 Description
Using clear, concise definitions, key facts and causes, Ending Hunger explores the issue of hunger, explaining what it is, and where it is. As with their factsheet on aid (link to Aid Works resource), Ending Hunger also has a section on debating the issue where they ask the question 'Are GM foods a solution to World Hunger?' and explore both sides of the argument. As well as discussing their own approach to ending hunger, Concern suggests what can be done in order to end hunger.
Suggested use
To gain a basic knowledge on the issues surrounding hunger and to stimulate discussion or debate also.
Further reading
Part of Concern's Development Issues series of 4 page information sheets on key issues in development. Other issues in the series:
More detailed educational publications from Concern that are free for download and provide in-depth analysis, facts and figures on each theme include:
All of the resources can also be ordered by contacting Concern here. 
More research resources:
The Food and Agriculture Organisation of the UN research report on The State of the Food Insecurity in the World 2011
The International Food Policy Research Institute (IFPRI), Welt Hunger Hilfe and Concern Worldwide report on 2011 Global Hunger Index – The Challenge of Hunger: Taming price spikes and excessive food price volatility
Other information
This is one of a number of publications from Concern on development issues. For more publications like this one, as well as posters, books and other downloadable resources, see https://www.concern.net/get-involved/schools/resources