Resource Title
Everyday Activism: such is the place where real change begins
Summary
Fundamental change involves us all. Activism is a vital part of the agenda for eradicating hunger and absolute poverty, inequality and injustice and in building better and more just alternatives.
Everyday Activism sets out to explore what such change might look like and what role you might play.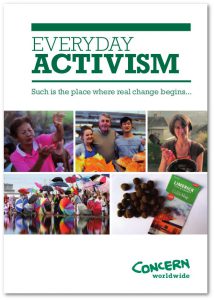 Resource Details
Author:

Tony Daly, Michael Doorly, Ciara Regan and Colm Regan

Publisher:

Concern Worldwide

Country of Publication:

Ireland

Year:

2015

ISBN:

9780956098108

Page Count:

45
Description
This booklet has been produced to stimulate discussion and debate on the challenge of being active for economic, social and political change.
It does not claim to have all the answers to the questions raised and certainly doesn't have a set of simplistic answers to the challenges we all face. These challenges are both complex and contested – there is no one answer that all agree upon.
"What we do know however is that doing very little or nothing in response to the challenges is not an option in any sense – we simply must do better."
Concern Worldwide is part of a larger international movement that has contributed to the very significant progress made in recent decades on hunger, poverty, human rights and human development – progress that has literally changed the lives and life chances of millions of the world's poor.
Everyday Activism includes:
5 reasons on 'why activism'
Inspirational quotes and reflective questions
Stories of activism
Suggestions on becoming active personally, professionally and with others
Illustrations, graphics, photos, activist profiles and a timeline of activism
A 5-point action agenda
This booklet stimulates discussion and debate to renew and to continue our activist journeys.